Up-and-coming singer Amilli comes from Western Germany. She's just finished her studies and speaks of possibly becoming a primary school teacher one day. She has a quirky group of friends, is a Hip-Hop head, and recorded her debut track 'Rarri' in a friend's basement. She hesitantly posted the track to Soundcloud to an unexpectedly rave response. Soon the idea of sharing her music became less daunting for the 18-year-old. Sonically Amilli is comparable the UK's Jorja Smith or California's Billie Eilish. She delivers soft yet raw vocals against calmingly smooth melodies. Her music tastes are rich in contemporary hip-hop influences and she's passionate about her love for Jazz. Amilli's lyricism is millennial and youthful but also exhibits the golden combination of being self-aware and observationist. In her song 'Rarri' she critiques the sheeplike nature of her peers ruled by hypebeast brand names and disposable trends. With an R&B-tinged pop sound that's strikingly memorable from the first listen, Amilli is not an artist to ignore. She opens up about how she found the confidence to do something different, the challenges of being young and making music, and what the future holds for the promising artist.
Where did you grow up?
I was born and have always lived in Bochum, Germany. There actually aren't a lot of crazy things to say about my childhood other than me being very lucky to be able to grow up carefree and really close to my family.
Did you always want to become a musician?
At first, I wanted to study illustration and do something artistic and creative. The other idea was working with kids as a primary school teacher. Music wasn't really my career aspiration to be honest because I always did it for myself. I [also] thought I wasn't really good enough to actually become a musician. My confidence music-wise wasn't the strongest back then. Now, I would definitely say that becoming a musician would be a dream come true since I really gained confidence, inspiration and came out of my little shell. I'm still 18 years old and there's a lot of time to take things as they come.
How did you start out making music?
I've played the piano for a long time and always sang a lot. My best friend empowered me to come out of my little shell so I wrote my first song and recorded it with some friends in a self-made basement studio. I posted it on Soundcloud and the reactions were crazy. I wasn't really expecting anything so I was overwhelmed by the [number] of people messaging and telling me that they love my voice and my music. One of those people was Leo, a producer and guitarist from the indie band I Am Jerry. Our taste in music and the whole vibe just matched right away and we started making music nearly every day. Leo's friends joined us and now we're a pretty huge team consisting of producers, directors, managers.
Has pursuing your music affected your teen life in any way?
There are and always will be people who won't like what you're doing. Especially at my age, it's not that easy to just do your thing and not care about what others say. People start judging you once you do something different, that's just a fact. That's the reason why I was a little scared to even press the upload button on Soundcloud. I just completely let go of all those negative people and just focused on the ones supporting me and what I'm doing. The fact that I started doing my thing and really got into making music the way I wanted to really brightened up my teen life in the best way.
Where do you find inspiration when writing a song?
Since I listen to a lot of music in my free time I get a lot of inspiration from other artists. My whole environment inspires me constantly. It can be people, nature or even a painting.
What inspired your track 'Rarri'?
I'm noticing that a lot of lyrics and music videos nowadays focus on showing off expensive cars, clothes and naked women shaking their butts. So the aim of 'Rarri' was creating something different to that and following an anti-materialistic vibe. When I wrote the song I wanted to create a contrast between using brand-slang and criticizing it at the same time. The message is basically looking beyond materialism and that all those expensive brands don't improve a shitty personality.
What's the story behind the video?
We wanted to outline the simple things in life. It was the first music video I ever did and I wanted to create an aesthetic video that portrays me the way I naturally am. We found amazing locations, waited for the perfect sunsets, and I strolled down the streets with a bike and got all my girls together.
Which artists do you look up to and why?
I could name a thousand artists I look up to. Alicia Keys, Amy Winehouse and Lauryn Hill are my favourite female artists of all time and I don't think I have to explain that any further. Anderson .Paak is one of the most talented artists in my opinion. Childish Gambino and Frank Ocean are the most artistic and creative ones. Oh, and the last one for today has to be Daniel Caesar. That voice is just unreal.
Is there anyone you'd like to collaborate with one day?
I'd to collaborate with talented people like Tom Misch or French Kiwi Juice. These guys are just insane. A collab with Goldlink would be a dream or Tyler, the Creator, who is certainly the most chill person ever. The list could go on.
How would you describe the kind of music you make?
Although I find it quite hard to categorize my music Future RnB/Soul with hints of Jazz and Pop would come the closest. The kind of music you hear when you're chilling with friends, you're on a road trip or watching a sunset.
Are there any projects you're working on at the moment?
At this point, we're still at the very beginning and everything went so fast that we have to sort our vision out first. But first off, we're planning and rehearsing some live gigs and working on some singles.
How do your friends and family feel about you releasing your own music?
They were all pretty surprised, to be honest. My singing voice is a lot deeper than my speaking voice so my family didn't believe that this was really me singing at first. All my friends and family are really proud of me and support me no matter what.
What's popular music-wise in Germany right now – how do you differ from that?
I'm not really up to date since I don't listen to the radio or charts regularly. Many people my age listen to German Hip Hop and Rap – which I'm not really a fan of – and Hip Hop and Pop from America. I wouldn't say I'm actively trying to differ from what's popular at the moment, I just don't think about how to make the most people listen to my music. I make the music I ́d like to listen to.
Are there any artists you think are underrated and more people should listen to?
The whole Jazz genre [is] completely underrated nowadays. Jazz is art. There's nothing better than sitting outside with a glass of wine and nice food listening to some Miles Davis, Bill Evans or Keith Jarrett. I also love how Loyle Carner, Tom Misch, French Kiwi Juice and Masego play with Jazz in a modern way.
Lastly, what have you got planned for the rest of the year?
I'm going to continue working on my musical education with vocal training and start a voluntary year at a kindergarten here in Bochum. Because I'm still very young I think it's important to not completely rely on the music and its current success. Nevertheless, there's new music coming out later this summer and some live gigs for sure!
Discover more of Amilli here.
This Schön! online exclusive has been produced by
photography. Martin Eklund 
talent. Amilli
make up. Ella Siou
words. Shama Nasinde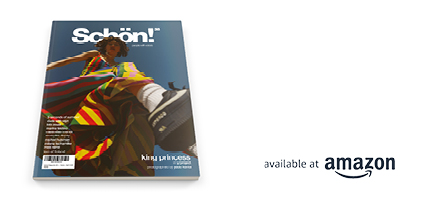 Discover the latest issue of Schön!. 
Now available in print, as an ebook, online and on any mobile device.