Upon glancing at Alex Sparrow's resume, it becomes evident that there's not much he can't do. An actor, director, producer and singer, Sparrow (a.k.a. Alexey Vorobyov) has been a formidable contestant on The X Factor, Dancing With The Stars and The Bachelor in his native Russia; and, as a singer, he even represented his country in the 2011 Eurovision contest in Germany. Now, as he continues to conquer Hollywood, he stars in the third season of Lifetime's drama television series UnREAL, a spoof on the popular dating show that Sparrow was once a part of in real life. And while his own run ended with him dismissing all his suitors to remain single, UnREAL sees him on the other side as Alexi Petrov, a "bad boy ballet dancer and a recovering cocaine addict" contestant. An undeniable all-rounder and star, we catch up with Sparrow to talk about art imitating life, splitting his time between L.A. and Moscow, the accident that changed his life and when we can expect more music from him after the success of She's Crazy But She's Mine.
Was working on the spoof dating show UnREAL similar in any way to your real-life experience filming Russia's The Bachelor in 2015?
It was an amazing experience to go from the bachelor to the suitor as a lot of things on set were resembling of my own experience — the reality TV cameras, the scenery, the atmosphere… And I told the producers right away that they're doing a great job because it's really hard to see the difference. It felt very real. The only difference was [that] on The Bachelor, I was the most rebellious bachelor of all time — breaking the rules, doing things my own way and confronting the producer's manipulation. However, in UnREAL, I had to obey and follow the script. So I guess it was a kind of revanche. But I was lucky to see it from the other side, becoming one of the twenty-five contenders for the heart of one girl.

You play a "bad boy from the ballet world" in the show. Was it hard for you to get into character?
This is one of the most difficult characters I've ever portrayed in my life! And it's one of very few I ever played who has nothing from me personally. Nearly none of the things he does have [I ever] done or experienced in my life. It was very interesting for me as an actor. There were funny things as well. Before the scene in the theatre, I rehearsed ballet, my own choreography, for 2 months and lifted huge dumbbells in-between shootings to be able to lift the ballerina on one hand and repeat it for another 350 takes if needed. So, on the day of shooting, our makeup artist had to hide a bruise under my eye, because the day before I dropped a heavy dumbbell directly in my face. It was an interesting but great experience.
My Alexi is the most unpredictable character of this season, an explosive and even dangerous guy, charming and full of vices. His heart is broken by a woman who he still loves and cannot let go. But first of all, he is an artist of insane talent and passion, a man with an incredible inner drama, in the final stage of self-destruction. I think talent is a fire that the Lord gives to a man so that he shares this warmth with others, like Prometheus. And as soon as one ceases to share this fire, one gets burned… This is what happens to my character. He rushes to the cliff at a tremendous speed to either fall or fly…

Did you enjoy your role as a suitor this time as opposed to being the series' leading man?
Of course, it was a very interesting experience to be one of those she chooses from, and I have to admit that this is not the most pleasant feeling… Each time standing there I thought about those girls that were standing in front of me waiting to see when I'll give them a rose, with producer's voices in my earpiece asking me not to give the rose too fast so cameras have more time to film the girl's emotions… The real Bachelor is certainly very cruel and, in a way, inhumane.
I've heard you live in both Los Angeles and Moscow. What is your favourite thing about each place?
I live in L.A. for the sun, which puts me in a good mood every morning and allows me to wake up and go outside. Moscow is more like New York, the city [that] never sleeps, and sitting a few hours in traffic in the morning becomes a collective activity instead of yoga. Moscow is a city for work, career, business, and L.A. [is] for creative inspiration. L.A. [has] really a very special atmosphere. This way I find myself and leave a part of me in both of these cities.

You were an avid footballer when you were younger, you perform all of your own stunts in films and you evidently go to the gym! Are you really into keeping fit?
Believe it or not, as much as I love active sports, I hate going to the gym. It is a real torture for me. Fitness is one of the most non-creative activities on earth. I respect and even admire people who love this process, but my heart goes to the sports where you can give real emotions and results and not only the "shape". The actor's body is his professional instrument, so I know how to work and know how to achieve the shape results as quickly as possible. Two months before the shooting of UnREAL I started going to the gym every day and ate properly to change my athletic shape into the body of a ballet dancer. Then during the filming, I lost about 5kg to make it look like my character was using drugs. And if you compare me in the first and last episodes of season 3, the difference is obvious. They even had to change a few of my costumes. I love sports, but only those where you have partners and the opportunity to win or lose. With the gym, I go to work for my roles. But I'm still looking forward to a role where I would need to get fat — that would be a dream role for me, as I love sweets!


You manage to do a lot! How do you find the time?
I love and enjoy what I do so much. It's all I do 24/7. But I also like to switch from one to the other. From actor to director, from singer to composer, from screenwriter to producer. I recently was trying to recall when the last time that I was bored doing my job, and I realised that this has never happened. My life, cities, countries, and even professions are constantly changing, and I must switch between them very quickly. Every minute is interesting and filled with joy of creativity.
You have a lot of strings to your bow— you've started directing and composing on top of your acting and singing work — have you always wanted to explore all of these avenues?
I always wrote my own songs, but I started writing symphonic scores and directing 5 years ago after I had an accident and a massive stroke as a result. I was [partially] paralyzed and couldn't sing or even talk. I had to forget about singing or acting. Doctors told me I would never able to go back onstage, so I began to explore the professions where I could stay behind the camera. I wrote my first script, made my first short film as a director, and won awards at dozens of festivals around the world. I started to write music for movies and TV shows. While I was training and restoring my singing skills and motor functions, I fully mastered new professions as screenwriter, director, editor and film composer. Having lost one life, I found several others that now exist in me separately from each other.

Is one of these your main passion or do you plan to continue pursuing all of them?
I used to be torn apart between acting, directing and writing music, until I learned how to combine all of it together. Now I write scripts and direct my own music videos and make music for the films where I play as an actor. This year I am planning to shoot my first big feature film based on my own script, with one of my favourite Hollywood actors as a lead. And after that, I will sit down with my computer and write music for this film. I am blessed to do only what I love and to have my job be a passion.
Are you still thinking about bringing out an American album?
Certainly!  This year, I will start to release my English album that I wrote in collaboration with one of the greatest world music producers, RedOne. I am more than exited to share it with you, and that moment is coming! My song She's Crazy But She's Mine with the video I directed that went viral all over the world already, and on April's Fools Day, you can expect two more singles and two more episodes of my "Crazy Prank couple" music story! All three of them will be released at once as a "Crazy Love Package" and then, a lot of new music with the special sound of Alex Sparrow to come!
Catch Alex tomorrow on a brand new episode of UnREAL on Lifetime in the US, and on Tuesday in the UK on Amazon Prime.
 This Schön! online exclusive was produced by 
photography. Bil Brown
fashion. Douglas VanLaningham
model. Alex Sparrow
grooming. Garret Gervais
fashion assistant. Jeremy Friend
words. Sara Delgado
interview. Hollie Williamson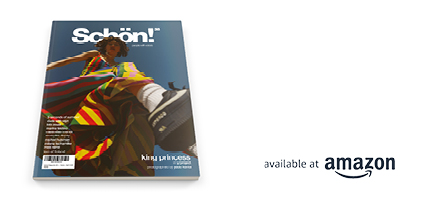 Discover the latest issue of Schön!. 
Now available in print, as an ebook, online and on any mobile device.