Alex Chinneck is the British artist known for his gravity-defying, physics-thwarting sculpture work. His previous installations have seen him suspend a car mid-air, melt the façade of a Margate house into its front garden and turn a pylon on its head. But, for the first time in 5 years, Chinneck has decided to exhibit indoors. At the German Museum of Kirchheim Unter Teck, he has erected two knotted "architectural interventions," –one, a twisted wooden column, becomes the focal point of the space, while an equally distorted broom also of his making can be found unassumingly leant up against a wall.
The artwork, called 'Birth, death and a midlife crisis', sees his knotted column (and a straight pillar he also put in place for symmetry's sake) stood next to 450-year-old originals, to make the contrast between the two all the more impressive. In fact Chinneck says they went to great lengths to ensure the columns he introduced were, "materially indistinguishable" from the ones already there, telling us they were, "visually aged, distressed and colour matched on site," because, "with this approach, the intervention looked to be visually bold but contextually minimal –animating but not dominating the situation."
This sort of considered attitude and critical evaluation is evident throughout Chinneck's roster of work, so because this isn't the first time he has experimented with knotting things (he previously contorted a chimney for an art commission in Sheffield –one of the largest public artworks in the UK), it begs the question of why. His response confirms a penchant for "fluidity in typically inflexible things," further stating that: "knots are the perfect sculptural form because there is an undisturbed material journey that is ever-changing as you circle the sculpture."
But where do all of these ideas come from? Turns out he leaves it up to the location to "inform his response," while taking into account context and budget constraints, so adapting to working inside for a change didn't disrupt how he approached the task at hand too much. "I still followed the same creative model, in that I developed a sculptural response to the visual and material language of the context while acknowledging its history," he reveals. Though thankfully it did remove the stress of factoring in the weather, "general unpredictability" and, "structural challenges," which Chinneck is no stranger to.
In fact, he says that the biggest challenge encountered on this project was "convincing the museum to let us install the work in their 450-year old building" –a comparatively trivial qualm to the engineering obstacles he is accustomed to coming up against. Indeed, problems are part and parcel of Chinneck's practice. "I try to maintain a degree of forced naivety because that's where the most imaginative ideas come from," he says. "My work attempts to defy logic, not follow it."
And it seems that working on a smaller scale proved to be just as rewarding for Chinneck as his grander tasks. "I enjoyed it more," he surmises, before going on to detail plans to continue working in this way and highlighting the fact that one silver lining of making more manageable sizes pieces is that post-exhibit, they don't necessarily have to be abandoned or put into storage, as is the fate of many of Chinneck's past works. "This is a new extension of my practice," he asserts. "I'm excited to start working on collectable works."
As if the scale of this otherworldly experience wasn't enough, the maverick man already has bigger ventures in the pipeline. Starting with a new studio on a farm in Kent that has recently become Chinneck's new workspace, from where he will continue to develop the plan for the structures in Sheffield alongside bringing a venture which will eventually materialise in Mumbai.
Alex Chinneck's 'Birth, death and a midlife crisis' is on at the German Museum of Kirchheim Unter Teck until 8 April 2018.
Photography / Charles Emerson
Words / Hollie Williamson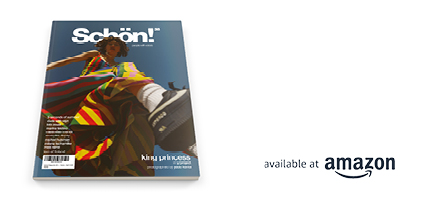 Discover the latest issue of Schön!. 
Now available in print, as an ebook, online and on any mobile device.