Abi Ocia is everything you've ever dreamt of when it comes to music; the 23-year-old is the embodiment of creativity. Hailing from West London, her music can be as liberating or haunting as you want it to be. To Abi, music is the most honest representation of the artist, whereby they can express themselves without emotional restraint, as well as a stalwart tool to change the listener's disposition. "Music has no frontiers," she says. And, as it could only be, hers is as powerful as her presence.
Abi is candid and not afraid to express her opinions, whether it is through her musical vision or via social media – or, as she prefers to call it, the new class-A drug. "Social media is the glossy, filtered version of reality," she says. "We live in an age whereby we can access information in an instant and it is easy to get caught up in the rapid speed at which this travels. While it can elevate, educate and broaden our understanding of things, it can also destroy people's perceptions of themselves and reality. Ultimately, do you control your phone or does your phone control you?"
Her music is an amalgamation of spirituality, lyricism, and composure. Her debut single Running boasts of more than 2 million streams on Spotify. What's more impressive, she amassed the first million in the short span of 4 months. Now, she promises the same for her second single Konfyt. But, if you are thinking of likening her to the other artists, don't. She doesn't. Also, if you are waiting for her to describe her sound, keep on waiting. "I want that to be up to the listeners."
Abi's demeanour is energetic and contagious, and it goes beyond her poised soulful sound and unapologetic pose. "I had, and still have, many other interests outside of music," she says. "When you are young your passions are vast and ever changing, but music always left the greatest impression on me. It felt natural to explore it further." Music became Abi's priority only after graduating from university with a History degree. Musician and historian; it may seem like a weird combination but it certainly works for her. "History is the ultimate storytelling," she says. "Engaging in the stories of those who have come before us is a very intimate process. We are able to build pictures of different cultures and human experiences that still inform our present. As a child, this fascinated me. Music is not too dissimilar. When writing I am creating my own authentic world that others can explore, and perhaps find reflections of themselves in the stories I share."  
Abi's venture into the music sphere started at the age of 8 in her church in West London, where a worship leader taught her how to play guitar. Still to this day, she continues to sing in church. It's no wonder history and religion have become fixed values in her music despite her refusing to describe her sound. She does, however, admit to drawing inspiration from anything and anywhere. "Influences are all encompassing. The environment we grow up in consciously or sub-consciously impacts what we do. The most influential environment while growing up is, of course, home," she says. "Being the youngest in the household, I would closely watch and listen to what was happening around me. The music that my parents and brother consumed was something I intently followed."
Her style is eclectic, unique and unapologetic, presenting an intersection where genres such as R&B, soul, and electronic meet and cohabit seamlessly. This may well be because her music preference may shift from Rick Ross to Genesis any given day. "It's all relative," she insists. In her only two singles to date, she's collaborated with newcomer producer Mkulu, whom you may spot in Vanessa White's Good Good. "Working with gifted individuals such as Mkulu feels a bit like worshipping at church on a Sunday. It is magical."
As magical as only her music can be, she awed the world last year with the release of her debut single Running, presented as an inner dialog with herself. "It is easy to be distracted by the mundane, to be thrown around by the different circumstances life presents us. We often place limitations on ourselves that hold us back from what we are intended to do," she says. "Running asks the question – 'what are you afraid of?' – and how far are you willing to go to rid yourself of those fears?"
Last October, she released the accompanying visuals for the track: an exquisite convergence of destruction and beauty. No wonder visuals will be presented as a key narrative in Abi's work. "Humans are fickle, we are creatures of habit – visuals offer a break from our own realities," she explains. Abi is undoubtedly the full package- she not only sings and plays, she also writes her own songs. "It's just a damn shame I don't dance," she jokes.
Songwriting seems to be a rare sighting in artists nowadays but it's as natural as life itself for Abi. "I rarely think about the connection between the two. Writing and singing my own material is how I create music, and the industry is an afterthought." It is only natural to be inquisitive about her creative process but "a good chef never fully shares their secret ingredients," so we'll have to keep wondering.
But while we're at it, we can rejoice with her second single Konfyt, an impassioned track that has been two years in the making. The artwork of Konfyt is a photo of Abi taken by her dad. "When I stare at the photo it is a younger, more vulnerable version of myself staring right back," she says. "Writing Konfyt evoked similar feelings. I wanted to hold up a mirror to myself and explore what was behind the stare. Like Konfyt, the image reminds me of the vulnerability we sometimes need and the nostalgic reminder of home in those moments."
Konfyt starts off with a conversation between Abi and her cousin, evoking the sentiment of home. The notion of home being a recurring theme in her music, we can't help but wonder what is home for Abi? She grew up in West London but her roots lay in St.Vincent and the Grenadines, the place that reminds her more of Konfyt. "Home is a true feeling of intimacy. It can be in people we love and where memories linger. It is never final," she says. While visuals are no doubt in the pipeline for Konfyt, she wants to let it "sonically simmer for a little longer." So, when we will be hearing (or seeing) more from Abi still remains as much of a mystery as her persona. "More is certainly coming. As of when, you shall have to keep watch." 
Words / Sara Delgado
Follow her here.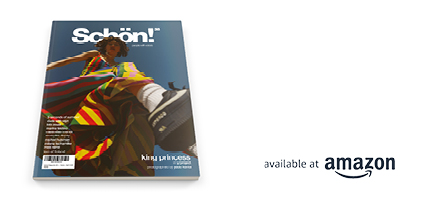 Discover the latest issue of Schön!. 
Now available in print, as an ebook, online and on any mobile device.