Keanu Reeves, Pierre et Gilles, Patti Smith, Vincent Peters… you may be wondering how all these icons fit the same category. They are indeed all genius in the own crafts, but these are very different crafts. The answer? They've all been shot by brilliant photographer Holger Sà. With a career spanning over two decades, Holger has made a name for himself in the industry by shooting some of the biggest names in fashion — from Chanel to Sonia Rykiel, and Vivienne Westwood. However, his latest project breaks from his colourful fashion stories and takes him to the entertainment sphere with this iconic portraiture series.
Jumping from the glossy pages to stripped down B&W and up-close photography might seem like a big jump, and it is. "The difference could not be bigger," says Holger. "[It's] like day and night. In fashion photography, you always photograph the latest fashion trends, the biggest show and the prettiest models — everything is staged and tailored to the image of the brand with the customer. In portrait photography, you photograph real people. I'm much freer in my portrait shots. For me, it is important not to overload the pictures in meaning, that's why I decided to shoot in black and white. In a good portrait, the face has to speak for itself." With his trusty and irreplaceable Leica as his preferred weapon of choice, Holger brings us the "Iconic Portraits" series. With genuineness as a priority, Holger admits that his portraits are "created within minutes under sometimes strange situations". Its sole title raises the question of what exactly makes an icon. To Holger's way of thinking, "icon not synonymous with famous person. An icon is someone who has created important things for decades. Diversity and variety are very important, that's why I decided to portray icons from all fields. It's just so much more exciting to photograph a famous actor today and maybe an astronaut tomorrow. Shooting admired subjects all over the world, each portrait is like a child to Holger. "Every photo has its own little story," he says. It was impressive to see Keanu Reeves. Despite my hesitation at the beginning, Keanu showed me why he is a world-famous actor. He has a unique way of expressing his emotions for a successful portrait. [On the other hand], I've never met anyone so full of positive energy as Julien Fournié."
And while musicians, actors and designers might be expected from such venture, Holger decided to also shoot David LaChapelle. It's only natural to wonder how does it feel as a photographer to shoot a fellow photographer. "Photographing David LaChapelle was something out of the ordinary," he says. "I had previously photographed Vincent Peters and had the experience of photographing a famous colleague, but David LaChapelle is David Lachapelle: one of the greatest photographers and artists of our time. When I photographed him, the world stood still for a moment." But perhaps the most remarkable anecdote comes from German rock singer Udo Lindenberg, who decided to sign the original photograph and put it up for auction, donating all the proceeds to Unicef. "Udo has been supporting Unicef for a long time," Holger recalls. "We had the idea for the Unicef print after our shooting. It was a bit difficult to find another date together, so he signed it there and the print will arrive in time for the Christmas auction. Supporting Unicef is crucial for both of us." Describing each picture as "a personal dialogue", this is just the start of Holger's series, with plans to grow it over the years. After all, as people continue to excel in their crafts, we will always have more icons.
This Schön! online exclusive was produced by
Photography / Holger Sà
Words / Sara Delgado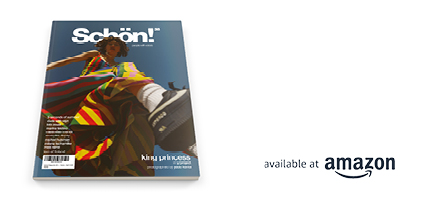 Discover the latest issue of Schön!. 
Now available in print, as an ebook, online and on any mobile device.