In recent months, retail has become the nightmare of the fashion world with ever decreasing figures, closures and concerns as to what the future holds. However, judging by the crowds at the couture shows and the customers wearing last season's collections, expense seems no barrier to sales in the fashion sector. Over the years, many discussions have focussed on the relevance of couture and its purpose. Ever since the rise of ready-to-wear, it has, incidentally, been continually "written off" and the question as to whether it is a laboratory for fashion or purposefully targeted at one tiny set of rich clients remains open. Even if it is aimed at such clients, this argument lacks weight since even during the '50s clients shopped at Balenciaga, Dior and Chanel — hardly identical designers.
This season points to a definite split and disagreement amongst the designers themselves as to how they see haute couture today. Swinging not only between the two different views — client or experiment —, often strengthened and enhanced by specific collections, theories were also shattered by a multitude of other creative statements which fall into neither camp. In fact, the whole discussion is rather irrelevant since the showing designers who survive, do so because of their personal viewpoint, their passion and their team. Even if a designer creates under a classic house name, having something individual to say, balancing clothes, publicity, freshness, saleability, as well as expressing it clearly and succinctly, is not to be sniffed at.
Let's look at some specific collections, and what they are saying about the current state of fashion and its strengths. Those designers using the haute label as a support for experiments, the thoughtful expressions of a concept and whose clients value this approach include Iris van Herpen. She reigns supreme in her fabric and 3D developments, bringing an increasingly featherweight look to many of the constructions, and a broader variety of thoughts on silhouettes. The iridescent robes set beside the tiny confections offering the contrast of moonlight and fire, with shimmering mother of pearl or coral reds. The show featured a dazzling staggering vertebrae-like structure suspended above the catwalk, which flexed and undulated like the articulation of the clothes.
"He speaks to my generation" was a verdict on John Galliano at Maison Margiela. The speaker in his 20s expressed of the modernity and Avant-Garde delight which Galliano still brings to fashion. The technical experimentation, the silhouettes and, in recent seasons, the technical fabrics and extraordinary colour work make this out as a collection for the special clients who truly understand these clothes.
Christian Dior and Maria Grazia Chiuri have a similar view of the prettiness and femininity of clothes, but part company on why. His was a nostalgic and perhaps old-fashioned view coloured by the post-war times. Hers is about the woman who is confident in her femininity not to have to wear men's clothes to make a statement. This season, the couture was about editing, stripping away and refining: all things we need to consider in busy lives and difficult times. The colour palette barely existed; using taupe, nude, greige and beige with black and navy. The rigour in providing clothes to which each woman brings her own personality and choice of styling is modern and liberating — indeed a subversive form of feminism in couture terms.
There are designers whose raison d'être appears to be embroidery and their workrooms ability to create surfaces, textures, and patterns in a manner so dexterous that it, at times, appears impossible to imagine nibble fingers worked on these encrustations. Fendi Couture took the art of textiles to new heights, where the actual components were unidentifiable. Fur, paillettes, embroideries, appliqueés, patchwork… no words can truly describe the inventions of the workrooms. Some strange sorcery made many of the surfaces look like Erté drawings with their tiny pointillist inventions. Pink, blush and rose once again appeared but the complexity of some of the work must be seen first-hand. A tour de force both for Fendi and the workrooms.
Egyptian couturier Hany El Behairy knows his clients: from the soft drape of a sari thrown across a shoulder and the sinuous silhouette of a '30s dance dress with Art Deco beading, through to the bride's veil like a shower of sunlit raindrops. Hany El Behairy knows how to offer a range of looks whilst staying true to his signature glamour, shimmering and sparkling decoration. The models sauntered through the golden salons of the Crillon Hotel, completely at ease and totally at home, which is exactly how the clients will feel in these pieces, designed to present the wearer at their most glamorous.
Rami Kadi showed his collection in an installation where every stitch could be examined. The switch from slender column silhouettes to fairytale ball gowns, and from delicate ruffles to sharp tailored lines offered the decoration in a variety of ways.
Zuhair Murad gets lighter with his amazing techniques every season. There was an Empress Josephine-like softness to the flowing fluid and softer lines of much of the collection, with capelet effects and prominent soft trailing elements. Colour spanned from the palest of greens to the richest of deep blues. The noble princesses striding the miles of catwalk under the sparkling chandeliers seemed ready for any court or royal occasion.
Georges Hobeika offered many feathery inspirations from feathers themselves to cut work and fluttering layers which seemed about to take wing.
Bertrand Guyon at Schiaparelli produced a collection whose reference points ranged from the Insect Ball and Leonor Fini, to Marcel Vertes and Salvador Dalí. Witty and wonderful, the show was a lavish party at the Opera Garnier. However, to really understand Guyon and his vision, go to the salons in Place Vendôme and see the garments close up, surround yourself with the clients and understand this is classic haute couture at its finest: the construction of the craft, the fabrications, the workmanship and the colours. Dazzling is the only word to describe the work: a dress seemingly constructed of Chantilly lace leaves that weighs less than the padded hanger it is suspended upon, a faux fur jacket that in close is created from so many ombré colours it is indescribable, and an evening bag shaped like a crescent moon entirely paved in brilliants shaded from ink to silver.
All these designers use their ateliers to very different effect and it is important to register this to note the difference in customers.
Alexis Mabille remains a couturier who constructs with a lethal combination of the sharpness of a scalpel and the touch of a butterfly. His siren dresses running down the curves of the body, and often flipping out towards the hem, contrast with his amazing trapeze dresses whose lines flow from shoulder to fluttering hem in a whirl of tiered or flounced tissue. This season, the green pieces were especial standouts with a bow tied sheath dress in shades of palest menthe or a hooded crêpe floor-length shirt dress in bronze green. The engineered craft close up is the brilliant trick with Mabille, who, unlike many couturiers, aims to make the extreme complexity of the construction and details invisible. Couture for the connoisseur.
Julien Fournié took the heroines of Alfred Hitchcock movies as inspiration and produced a stunningly perfect show. Opening with a black-plumed cocktail dress and closing with a chalk white crêpe draped dress, right before the traditional couture bride: every look, every colour and every detail was right. Seafoam feathers on a trench over trousers, marigold satin, deep camel drape, damson and geranium, tailoring, slender silhouettes against full fifties inspired skirts. The roar of approval demonstrated just how strong and great this collection was.
Maison Rabih Kayrouz had a live band, famous supermodels from the past and joyful colours and fabrics. The audience had many clients already wearing his clothes, and it was clear many more sales will be racked up after this romp through fun show. Short easy jackets over long fluid tunics and wide pants — each in a different colour, pattern, or fabric — with the surprise of slippers in a fourth colour or fabric. Layering without clutter, presenting bold brights without vulgarity or being overpowering and soft easy silhouettes without bulk. The skill of this is almost invisible yet the brilliant judgement and eye for detail is simply genius. No overstatement, and no exaggeration: it's a task so few can successfully perform.
Giovanni Bedin had a small yet beautifully balanced presentation, which on examination enabled us to see the "fabric" wasn't grosgrain, but beading. That the bow wasn't stitched, but beading. Black together with the palest blush pink and the palest sky blue anchored the collection in a modern prettiness without a hint of saccharine. This charmingly talented designer understands proportion: although shown short, everything works long — or longer — and colours can be switched between pieces. This is couture where the designer and the client arrive at solutions based on prototypes.
Alexandre Vauthier offers sexy tailoring, sexy dresses, and sharp sexy presentations. His couture has elements of Yves Saint Laurent in its sharp tailoring and the full skirted evening looks, plus, of course, Zizi Jeanmaire plumes. But somehow, it's never derivative or copied. It's the master lingering in the background. Chrome yellow for a Duchesse-satin blazer or a balloon ballgown pleated skirt, brilliant burst of black feathers like birds on display and simple beautifully cut classic pieces add up to a couturier who knows exactly who he is and who his clients are.
Ronald van der Kemp also has the Yves Saint Laurent aesthetic in elements of his collections but again it's just a design scent in the air of his work. There is an eclectic sense to his vision, where a marigold orange velvet hooded dress comes lined and faced in shocking silk, a black folded batwing sleeve has tiny cords outlining the edges, or a Helen of Troy-esque look is created out of petal-like layers of pink and peach. Each look is separate and distinct, yet the whole is held together and made coherent by his knowledge of couture skills, his understanding of the variety of looks required by clients and his own personal vision of fashion. His is a truly special talent.
Stéphane Rolland adores volume and this season was Rolland at his strongest, most edited and, frankly, most beautiful. The operatic splendour of his robes in fog grey or sand beige, or his magnificent coats in swing trapeze lines dropping to the floor were simply marvellous but nothing compared to when he hit the black taffeta steaming around the models like thunderclouds. A standout collection for this established designer.
Aganovich may not be a name on everyone's lips, but it should be. The black grosgrain opera coat folded around itself with darted shaping, the layered mille-feuille ruffles under a brocaded jacket fanned out in corset-like panels, the ruched and puckered bolero, the golden coat… every piece was special, and the cut, construction and techniques were all at the service of making beautiful clothes.
What can one say about Valentino? If we all thought last season was as far as Pier Paolo Piccioli could take us into wonder, this season he showed us how wrong we were. It's hard to convey the magic of this fashion moment, hard to understand that every colour and every piece were astounding — every look being perfect from every angle. The decorations and patterns worked around the body so each view revealed the brilliance of the petite mains and the craft of true haute couture. The headpieces made from fresh orchids, marigolds, and other flowers, created by Debeaulieu and the Guido Palau. Huge hairstyles were perfectly judged and used only on certain looks. You will not be in the salons of Hotel Salomon Rothschild to witness everyone leaping to their feet as the show finished, or to see the tears and hear the roar that greeted the designer, but you will get an idea of why this collection epitomised haute couture if you have a look at it online.
In all, a final word summed up this couture season, the hottest for a long time in both weather and talent: silhouette. If one thing stood out, from the tiny waists at Dior to the bound shapes at Margiela to the floating gowns at Rolland, it was shape and silhouette.
words. Tony Glenville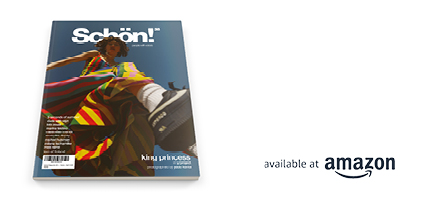 Discover the latest issue of Schön!. 
Now available in print, as an ebook, online and on any mobile device.