Despite what the stores around the ancient city of Athens might make you think, Greek fashion is not all furs and bikinis. Underneath the glamour and suntans, the creative industry is on the up. Athens Fashion Week is the place to be to see established designers and newcomers show their catwalk collections to eager crowds. It might not have the same street style, calibre of models or timekeeping as London,Milan or Paris; but with standing room only shows,  Athens Xclusive Designer Week showcases the splendour of Greek talent. Here are Schön!'s favourites from the 23rd edition.
Vassilis Zoulias is one of the Greek heroes of fashion design. Showing his Resort 19 collection on Sunday to a packed house, the throng of fashionistas waited outside an ancient church with baited breath.  The collection had a regal theme. Entitled 'The Crown', models of all ages wearing pretty dresses, pussy bows, twinsets and fifties silhouettes sashayed down the runway. Taking inspiration from historically chic queens, princesses and ladies of honour, there was an air of dress up and the gowns were definitely fit for royalty. Mixing a range of silk, herringbone checks, and triple organza, the whole production was superb — from the bouffant hair styling, oversized accessories including tiaras and masks to the dainty gloves, and clutch bags. This impressive couture offering will be popular with anyone who wants to dress to impress.

In complete contrast, Lefkon, who won the New Designer Award stood out as a ready to wear favourite. Showcasing a selection of simple shirt dresses in natural earthy tones, styled with flat sandals, un-done hair and headscarves; the result was a thoughtful collection that transcends time. Straightforward, no-frills dressing perfect for the busy woman, that still suggests fresh air and rural living. The clean lines were reminiscent of nature but could easily work in an urban lifestyle. Presenting a blank canvas, the pieces lend themselves to be styled up and down. No doubt: this collection will be popular with all ages. The label was launched by Irini-Louisa Andrikopoulou in 2015 and nods to the Scandi style of minimalism, but the waistband details give each piece shape and personality whilst adding a contemporary touch.

MI-RÕ is a joint label by Dimitris Mastrokalos and Giannis Raptis founded in 2003. As established names on the Greek fashion circuit, they have a huge, faithful fan base, and closed the week of shows at Athens Conservatory: pulling in a star-studded crowd to the stunning off schedule venue, where one FROW consisted of TV personalities and actors, and another pop stars. Choosing to show both men and womenswear in the same showcase, the models trotted down the runway in a selection of shimmering silks, tassels, ruffles and one-shouldered Grecian style gowns. The colour palette ranged from bold jewel colours in magenta, orange and turquoise to pastel hues. Undoubtedly, the menswear was perfectly practical, erring on the utility vibe but keeping it couture nonetheless.

Popular with upcoming actresses, young designer Yiorgos Eleftheriades showed a fluid collection in the stunning courtyard of the Zephion. Using bright colour blocking as the basis of the collection, it made a stark contrast to the stone pillars the models snaked around in formation. Consisting of functional ready-to-wear pieces, the collection mixed up timeless shapes with a postmodern twist and offered a unique way to daily dressing. Referencing classical staples, the finished result was a fluid show with an ample array of fresh pieces.  

The Folli Follie collection of jewellery, bags and sunglasses was also shown to a packed courtyard. Overlooking the fact that it is the jewels that are the focus, the production was spectacular. Using thirty models (and a dog), the collection was styled with simple white shirts and smock dresses, which added personality to the headscarves and bags — the colour palette of the stripey bags being black, red, green, and yellow combined with white. The matching headscarves, bold necklaces and watches stood out against the midday sun. From small bags to box bags and large tote bags, there was even a bum bag to mix and match with your summer wardrobe.

Klelia Andrali is an Athens born, Brighton-based fashion designer, so you might expect something with a bit of twist. Specialising in digital print, her SS19 collection, entitled 'Freak Show', was filled with bright colours, pop art and serious sass — resulting in a cute, playful ready-to-wear collection. The dropped waists and twin sets were styled with ankle socks and headscarves for a quirky approach to summer. Upon closer inspection, the illustrations included traditional circus favourites such as the strong man, siamese twins, a four-legged girl and human skeleton, but rather than looking perturbing, they had been given a very girly twist.

The dynamic men and womenswear designer Sotiris Georgiou is extremely capable of making his mark on the Greek fashion scene and beyond. Working with predominantly commercial and highly wearable shapes, he plays with layers as if fashion should be fun. His show at AXDW showed a selection of flamboyant separates in purples, pinks and PVC. The menswear mashed flamboyant neckties styled with oversized trousers, slimline suits and puffa jackets, and the women's collection offered a more adventurous approach to urban dressing.
For more information about Athens Xclusive Design Week click here. 
words. Sara Darling
photography courtesy of Panoulis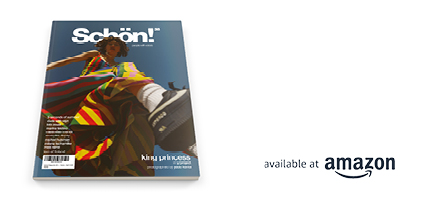 Discover the latest issue of Schön!. 
Now available in print, as an ebook, online and on any mobile device.