From June 7 until July 8, London will host "the summer season's ultimate destination for art aficionados". A full month packed with a carefully designed programme across opera, dance, and art; The Grange Festival returns in a couple of weeks for its sophomore year. After the overwhelming success of the first edition, the festival adds ballet and contemporary dance to its already impressive artistic programme and palmarès.
A former WWII American army base, The Grange, in Hampshire, will once again serve as a plateau for the festival with its astounding neo-classical building and over 300 acres of beautifully landscaped land. The season kicks off with DANCE@THEGRANGE, whose first performance would be co-curated by Wayne McGregor CBE, the newly appointed Director of Dance, and Royal Ballet principal dancer Edward Watson. As the festival commencement approaches, Schön! catches up with its artistic director, Michael Chance, to talk about introducing dance to the programme and what the public can expect from this second edition.
What would you say are the highlights from this second edition? What can people expect?
Two evenings of electrifying dance with amazing music which is a first for The Grange, and for any UK opera festival. A Handel opera performed with wit and vim on a familiar but subversive set. Some top class visiting Italian singers who can really show us what Rossini and Handel are all about. And a beautiful, crafted, traditional production of many Mozart lovers' operatic favourite. Oh, and a delicious savoury at the end of a Leonard Bernstein masterpiece with a top-notch West End cast.  
What's different from the first edition? What are you most excited for people to see?
Different operas, singers, sets, and, as above, this new groundbreaking foray into Ballet/Dance. And refined outdoor facilities, a new menu for the indoor diners, but the same joie de vivre which characterised our first festival and on which so many commented. 
As the festival artistic director, why did you feel the need to revive the Grange Festival?  
I was asked to. That doesn't happen very often, well certainly not to me. And these artistic ventures take years to establish and often one meeting to end. There were all the ingredients, the setting, the opera house, the loyal audience — it just needed a bit of determination, courage and hard work to re-vivify and re-imagine what was there before. There was no shortage of people both professionals and volunteers to make it all happen. That alone is a good enough reason for doing it. As long as it's good — which I think I can honestly say it really is. 
How did you envision the festival's expansion into dance?  
Early on, it was strongly communicated to me that there was a passionate interest in seeing high-quality dance on stage at The Grange. I conceived the title 'The Grange Festival' in part to allow other art forms to enter the mix to complement the staple operatic fare. And when a yes came from Wayne, and Ed and the teams they work with — well, nothing more needs to be said. 
Why do you feel it's important to highlight the intersections between opera, dance and art?  
We love to pigeon-hole, to separate off one supposedly independent form of performing art from another. I know from experience as a performer that both the public's and artistic management's perception of what we do and are good at can be limited and at variance from what we know ourselves. It is really a form of easy marketing. But the truth about how all music is essentially based on dance and song persuades me that the intersections should be celebrated as much as possible. And the visual element is equally resonant. Both dance and opera have from the start been locations for radical and fashion-leading work. 
Where do you see the festival going into the future?  
If we can successfully incorporate dance into the mix at The Grange, then drama beckons in the future. Every venture needs to be conceived and executed at as rich a creative level and as high a performance level as possible, to make The Grange a destination of choice for lovers of all the performing arts on at least a European if not an International platform. The setting and the theatre demand no less. 
For further details on The Grange Festival's 2018 season and to book tickets click here.  
All images courtesy of The Grange Festival. Michael Chance's portrait by Annelies van der Vegt.
interview. Sara Delgado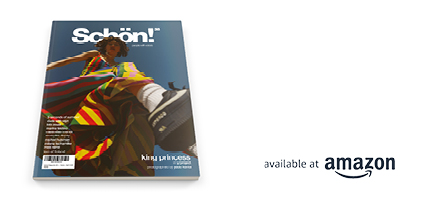 Discover the latest issue of Schön!. 
Now available in print, as an ebook, online and on any mobile device.