I am starting to write this roundup of Paris Fashion Week on International Women's Day, but my thoughts were formed before this. Women in fashion have a plan: that's what makes them successful, strong and, of course, individual. This season was precisely all about those women.
It is clear that from the very beginning Chanel had a plan: to free women from the confines of the then current fashion. Beginning with millinery in 1912 and marching on into clothes a few years later, her heritage could be seen on the models boldly stepping through the woods at this season's Chanel show. Referencing Gabrielle Bonheur Chanel's country beginnings through the autumnal forest but ticking all of the maison's classics as well, Lagerfeld bows to Chanel's plan. Great classic suits, beautiful blouses, and the iconic little black dress remain the winners of her plan and form the foundations of Karl Largerfeld's reinvention of the house. The mix of tweeds and knitwear, softest crêpe, and wisps of Chantilly lace, all trace their origins to the original plan to give women clothes to live their lives in — from business to gala, from day to night.
In 1962, a flame-haired woman named Sonia Rykiel formed a plan: to make great knitwear for women that reflected the then modern times — not the cosy grannie knitwear of the past. Today, Julie de Libran carries that inspiration forward and, indeed, embraces Rykiel's legacy, whose shows were always upbeat, sexy and with a condifent strong woman at its heart. Undeniably, Julie de Laban is in total harmony with the ethos, culture, and attitude of Sonia Rykiel.
Since the founding of the house in 1951 by Armi Ratia, the Marimekko woman has adored a pattern repertoire that's endlessly reinvented and reimagined. This season, the Finnish house was outstanding in its freshness and elegance — with an almost Edwardian, slender silhouette accented with huge mufflers. Handling stripes so perfectly and with a boldness that never overpowers the wearer, this collection was elegant yet easy — the strength of the plan being in its longevity.
Leonard, famous for its prints, was launched in 1958. Today, Christine Phung gives a modern and easy twist to the house's signatures. Her collection seemed perfect for all the winter activities the jet set can relish — from outerwear for skiing to at-home floor-length evening dresses, together with an entire capsule wardrobe with Leonard prints, stripe banding and tropical colours. Definitely a woman with a plan to modernise without destroying.  
In 1964, Junko Shimada launched her own label. In 2018, as an Ambassador for the Masai and Ndebele tribes, she demonstrated to perfection in her collection how to link inspiration without being patronising or embarrassing. Brilliant colours and patterns, soft wraps and folds, and an ease based around pieces that assembled and layered rather than styled.
Since 1973, Agnès B has been providing clothes to live in — from simple sporty pieces for breakfast and pilates, through casual styles for a day in the office, smart suits for meetings, LBDs for cocktails to either a tuxedo or a simple dress for a gala. It's all there on show and easily understood — without a ridiculous "message" since often her models are not professionals but simply women who wear the clothes well. The colours offer options from cool neutrals to bright prints and, as usual, the fabrics remain top quality. Agnès B has done her job one hundred percent successfully for 45 years straight — a tour de force that ought to be greeted with a rapturous applause.
Founded in 1990 and showing in Paris since 2003, Japanese designer Tsumori Chisato layers fabrics and patterns with an unrivalled dexterity — and her hints of Sonia Delaunay only strengthen the fact that she is enjoying her work and wishes to share it with those who respond to the aesthetic. Her exuberant layering, her understanding of colour and pattern, and her sense of proportion filled the presentation with energy, smiles and love.
It is incontestable that, nowadays, there are many women in fashion creating clothes with a focus, a direction, and a reason and, it is incontestable that Maria Grazia Chiuri is one of them. For her latest collection at Christian Dior, Chiuri looked at the time when women were beginning to be liberated and its consequent freedom and fun from the late '60s and early '70s. Denim patchwork blazers and long ironed hair, easy kilt skirts that swing and move, soft shrug coats, ample bags, and great trousers to stride out with confidence in. The collection was about being at ease and, for all its references, was rooted in the present. Politics can underline fashion, and they certainly did at Dior. Monsieur Dior's belief in women was clear when he launched his house with a team of very strong personalities and fashion expertise: his love and admiration for women, always a part of the heritage. 
Racil Chalhoub adores trouser suits — and does them terribly well. Having already built a reputation for them, her models looked divinely at home in dandy colours and velvets as they strutted through the Ritz'sBar Hemingway —  my favourite being an amazing blush rose petal shade. Inès de la Fressange hates fuss and likes clothes which are upbeat, easy, and adaptable. This season, she presented a boot which goes with every outfit — from day to night. Just the one. She promised the fastest show in Paris as she talked me through the collection on dress forms, and she was correct. Her collaboration with Uniqlo being a testament to her talent and success, this collection is set to sell even faster.
Mazarine has, in a few short seasons, established a signature look of nonchalant chic. The models who strolled through her presentation looked as marvellous backstage as in the foyer of Le Palais de Tokyo. The colour palette, as ever with Helene Timsit, layers bright with dense and rich tones to offer an oblique experience.  
Ingie, created in 2009 by Ingie Chaloub, focuses on glamour — which, given the life of its founder, is totally appropriate. The quality and allure, from the daywear through to the eveningwear, are imagined by a woman that understands exactly what is required for her specific clients.
Despite the romantic element of her clothes, be in no doubt that Anais Mak is a creative force to be reckoned with. As the mastermind behind Jourden, started in 2012, the 28-year-old has already made her way into the official PFW calendar. Her beautiful flounced, tiered, and ruffled clothes belie a certain street edge and the prettiness is never saccharine.
Gauchère has the brilliance of Marie-Christine Statz behind it since 2008. A decade of really terrific clothes, whose soft elegance and poise is hard to convey until you are in the room and the truly great clothes drift past. A forest green shearling jacket or the slip of a winter dress, the flurry of a pleated skirt or the sexy nonchalance of a shirt: Statz designs great clothes from a woman who doesn't need to shout about her skills.
Sofia Achaval de Montaigu and her partner Lucila Sperber investigated Gaucho style and brought it to Paris in a fashion collection. Àcheval Pampa's wonderful extras, belts and tassels made a really fresh style statement. Made in Argentina with leathers sourced in Uruguay; this collection was a truly international plan.
Mira Mikati asked if I wanted a ride in the bumper cars she had whizzing around; it gives you a clue to her funfair attitude to fashion. This is about fun pieces to mix and match — exactly like pick 'n' mix candies and with the same satisfactory reward.
A_Plan_Application, the newly launched label by German artist Anna Blessmann, presents itself as an astounding capsule wardrobe. In black, white, denim, and shades of blue: every piece is simple, clean and, frankly, a winner. At the gallery preview, everyone was shopping and the model was preparing to steal her outfit of long hooded jersey knit coat and simple wrap shirtdress. Stunning.
Cyclas is only two years old but designer Keiko Onose is already a colour and fabric genius. My companion told her after the show "there is not one piece I wouldn't wear." Clearly, women designers have a plan to dress other women with a similar vision — be it extroverts, minimal, monochrome, or colourful. I don't have room to do more than mention Carine Gilson and her exquisite lingerie, and newly launched couture pieces, Magda Butrym and her glamorous collection and Cara Mila and her fabulous furs.
Another outstanding collection created by women was found in Masha Ma, whose edge to glamour, ode to volume and fast-paced presentation had the lightning-like force of confidence and focus. Huge down jackets, twisted skirts and swing coats offered both elegance and power in a Joan-Crawford-career-girl meets Blade Runner way. Certainly, a vision of fashion for women of power.
Paul Poiret closed his house around ninety years ago. How currently could Yiqing Yin envision a debut collection that looked contemporary and yet had some links to the house? The answer lays in the fusion of her own style with Paul Poiret's, as well as fashion's current state. The wonderful volume he loved and the rich oriental brocades he searched for became an evening coat filled extravaganza. The off-kilter decoration, the soft kimono wraps, the cocoon over slender silhouettes were all present in a collection that never felt into pastiche, historicism, or parody. A marvellous opening statement clearly made by a woman with a plan for the house in the coming seasons. But a woman with a plan is full of surprises. At Givenchy, the collection produced a strong response of "yes" from many women I spoke to. Clare Waight Keller is embracing the wardrobe concept which Monsieur Hubert de Givenchy had already introduced in his first collection on his own after leaving Schiaparelli. As a woman designing women's clothes, she focuses on the requirements, the proportions, the balance, and the versatility of the pieces — not just the narrative or the presentation. Inspiring other women to shop through the appeal of your clothes today is indeed a real requirement and this collection encapsulated that real-life concept. 
Obviously, men also play a key role in Paris fashion and this season they were especially good at what I always refer to as "Whisper Chic". It is a fact that Cristóbal Balenciaga made gardening smocks for Bunny Mellon, he also made at home evening dresses, simple linen shifts, and guipure lace cocktail dresses for her. The relationship between Balenciaga and his clients was about quietness. Many designers follow in those discrete footsteps, by simply offering nothing but the best they can give in their work. The expertise is invisible, the technical quality never vulgar, the results formidable, and the customer, privileged. The variety of approaches is surprising and to a large degree is about the client and their needs. The woman who buys with the same eye as a collector of exquisite porcelain or the gallery owner who discovers the next artist. Line, silhouette, and often a total lack of fuss, clutter or extraneous details mark out the truly special in fashion design. These designers have an approach which links the tailoring of Savile Row, the formidable construction of the couture ateliers, and the rigour of the editorial eye, ruthlessly applied to their collections.  
Peter Cohen and Martin Grant need no headlines and no cover stars. Although they both dress stars, in a sense, every woman dressed by them becomes a star. Finish, fabric, cut and silhouette — they evolve, shift, and change but, at heart, there's always beauty, refinement of ideas, rigorous attention to detail and, above all, quality.
Akris' fabrics are simply splendid — for Albert Kriemler sources them and then magics them into clothes. The catwalk was lovely but if you go and stroke the surfaces of the pieces, take a magnifying glass out and look at the finish, you'll see how each season's editing produces a special perfection for women who love clothes but are wary of innovative fashion.
Lutz Huelle is changing. If I thought he was great last season, this season, he enters another higher level of shape and silhouette and reinvention of deconstruction. The couture-like splendour of the collection produced a roar of applause from his audience. Like all the men in this group: as he becomes surer of himself, there is less compromise and, in today's fashion world, this group of designers is really all about integrity and remaining true to yourself. 
Yohji Yamamoto paid discrete homage to the late Azzedine Alaïa. It was as though he spun gestures of Alaïa in the air: the curve of a sleeve, the arc of a leather corselet, the swirl of a ruffle. Yamamoto manages to distil the essence of one designer and, like a fragrance, let it drift through the collection like a wonderful dream. Yet, of course, it remained totally true to the heritage and mood of Yamamoto himself.
Jacquemus produced strongly differing responses, as all strong fashion should. The Moroccan influence was mainly in the colour and the feeling for dressing for the heat, the clothes moved as if the models were going somewhere; the beach, dinner, the souk, a terrace, or simply to lie down and read. Or perhaps to be perched on a bar stool sipping tea. Its very quietness of intent, and its lack of frills, decoration or fuss seemed to confuse some observers.  If you failed to like this collection, perhaps its subtlety surprises you in one so young? The Azzedine Alaïa exhibition running in Paris reveals not only his genius, but also the link to other quiet designers, honest designers who don't run after celebrity either for themselves or for their clients. Alaïa attracted clients and therefore fame but it wasn't his goal in his work. In the end, we run after these quiet designers, not the other way around. Their clients are women who merely smile quietly, with the knowledge they are confident enough to buy these whisper chic clothes.
In contrast are those designers with a more extrovert approach — where the focus resides in the fabrics, the surface decoration and the colour. Manish Arora and Rahul Mishra are both of Indian origins and different in many ways, but their unique qualities are based in colour and textiles. Manish Arora threw colour about as though it was a fashion Holi with orange, tangerine, fuchsia, peony, mandarin, rose, scarlet, and every other shade you can think of present in the collection. Yet, it never looked once overladen or vulgar. The silhouettes this season were generally narrower and longer with a hint ceremonial or ritual spirit about them.
Up close, Rahul Mishra's work is so amazing that even on the catwalk you lean forward to see how much you may glimpse of the stunning artisan craftsmanship on display. This season was generally richer and darker, the narrative's inspiration being intense and personal — giving the clothes the scent of a heritage piece even if new. 
Beautiful People has amazing construction and, yet, it's the fabric combinations and the colours that characterise the collection as so very special. The pale chartreuse panne velvet skirt appearing below a long dress, the pre-Raphaelite calligraphy across a folded skirt or the selvedge of a soft worsted — they all impart a very specific feeling to the collection. Checks in a surprise shade, iridescent pleated shimmering prints, crushed velvets and more. The fluid movement of the collection and the slightly Edwardian feeling to the styling and proportions was very romantic in an offbeat way.
Mukzin showed a collection that proved to be nothing less than a symphony of textiles and textures. Billowing Japanese calligraphy, sparkling brocade, twisted velvets, crushed taffeta, and worsted checks came together in an assemblage of strong character and surprises. Intense colour filled the rooms and, as each model went past, the sparkling enfolding and drape of each piece were almost too much to take in. Intense deep shades nest to pop-art colour. Softest swirls of fabric paired with stiff rigid textures and weightless fluttering robes coming after a strict Samurai look. It was totally mindboggling and cinematic, as in a procession of thoughts and concepts.
Christian Wijnants played with print scales and contrasting bold — filling down coats and jackets alongside soft modest dresses. The collection was a tour de force in fabric and a completely thought-through idea that presented no errors to break the statement.
Yves Salomon produced a collection named 'Pieces', made completely out of scraps and archive materials. There was a Klimt-like quality to many of the pieces created, each one totally unique and unrepeatable. Unlined with the inside seams covered in feather-like embroidery, the collection was a feast for the senses. The piece that truly amazed was a simple collarless jacket with wide trumpet sleeves created from eight different types of black fur. A heritage piece if ever there was one. Bravo indeed for this, what one has to call, upcycling concept.
At Issey Miyake, of course, the technology and the expertise in fabric creation is the lifeblood and force within the house. The extraordinary opening section of the AW2018 show was ivory white on ivory white on ivory white through layers, textures and pieces. Like some fantasy scene from a futuristic movie set on an ivory planet. The rest of the collection, which included a bit more colour, was equally great. Our fabric fiends have had a field day this season.
Let's raise a glass to the women in fashion: from the designers mentioned and all the others to Rose Bertin, who dressed Marie Antoinette, the tailors, artisans, vendeuses, sales assistants, PRs and, of course, the interns. The strength in editing and in statement underpins all women designers — be it Iris van Herpen, Comme des Garçons' Rei Kawakubo, or Phoebe Philo. As fashion month comes to an end, women with a plan, whisper chic and fabric fanatics present the three stories to take out Paris Fashion Week stories and discuss, disagree with or embrace.
Words / Tony Glenville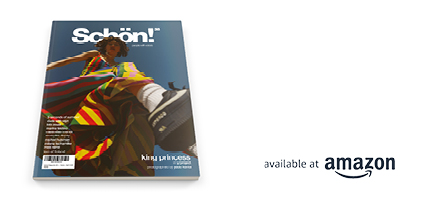 Discover the latest issue of Schön!. 
Now available in print, as an ebook, online and on any mobile device.