The streets of Romania are as cobbled as any Milano avenue and there certainly isn't any shortage of dramatic landscapes or architectural spaces. Feeric, or Fashion as Enhancive Experience for Romanian and International Creators, Fashion Week (FFW) is being hailed as the greatest fashion week in Eastern Europe.
The accolade is however founded on a strong foundation; Feeric Fashion Week, hosted in the historic district of Sibui in Transylvania, Romania, has all the trappings of a great global fashion week venue. Breath-taking exhibition spaces and catwalks, thoroughfares steeped in history and of course the designers and their creations. If Transylvania can inspire Bram Stoker's Count Dracula, it can without doubt serve as muse for any budding designer. According to myth, The Count was never seen in anything less than an impeccable black Tux, it seems Transylvania has been fashion forward for longer than we thought.
Debuting in 2008, each consecutive year of FFW further promotes Eastern Europe's place as a fashion destination, for designers and buyers alike. Surroundings aside, surely the primary intention of any fashion week is to uncover brilliant sartorial talent and to give designers a chance to display their creations on a world stage. FFW does exactly that, the event is attracting more and more designers from the farthest reaches of the globe with each edition. The event takes on fashion somewhat differently than most other fashion weeks, for instance, FFW Day One saw wheelchair bound models showcasing designs in association with Atipic Beauty, an organisation for research into spinal cord injuries. Inclusive fashion that ebbs away at the superficial demeanour of the industry can't be a bad thing. On that note, let's touch on a couple of other highlights from this year's FFW.
Alicante born Yvan Andreu studied at The Paris Academy, relocated to Seville and later created his eponymous line in 2014 which was shown at FFW to much acclaim. His line is based on minimalism where straight, clean lines and overlaps create a cohesive collection which comprised of brilliantly futuristic metallic co-ords, flouncy volumes and flare cut trousers. His pieces are extremely ready-to-wear yet still retain strong visual impact.
Bianca Popp is a Marangoni Master graduate from Insiuto Marangoni Milan, her label which she started in 2009 is influenced by her time studying theatre semiotics. Her costume driven collection is meant to symbolise the multitude of roles people play whilst still trying to stay true to themselves. The philosophy is admittedly a little new age but the quality of her designs cannot be mocked. The result is an extremely versatile collection, designed to adapt to and complement each wearer. Quite a tall order for a dress. Her show at FFW was one of ethereal beauty with plenty of ultra-feminine shapes and fabrics, a collection ready made for summer. 
To cross-examine and compare the vast selection of fashion weeks in the world would be futile. It is worth noting, however, that Feeric Fashion Week is a little different from the rest. It tries to deconstruct stereotypical fashion values – note the wheelchair fashion show – and attracts designers that might feel they have a little too much flair for more conventional events. FFW is here to stay and looks set to get better year on year.
Discover more on Feeling Feeric here.
Words / Jordan Gale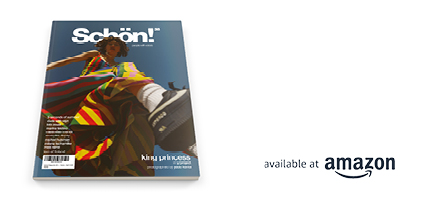 Discover the latest issue of Schön!. 
Now available in print, as an ebook, online and on any mobile device.