Feeric Fashion Week has since 2008 developed itself in an international fashion hub for designers coming from more than 20 countries and 4 continents. It is based in the city of Sibiu, Transylvania, Romania, and it is covered by international fashion press worldwide. Many designers and guests are impressed by the creativity of transforming the most random places in catwalk-ready settings. Feeric Fashion Week is supported by The City Hall of Sibiu. The first Feeric Fashion Week was created in Sibiu, in 2008 by Mitichi, art director and fashion photographer. Feeric is the Romanian word for "magic" and the name came from the beauty of the Small Square, a very popular square among the tourists and such a fancy place for locals.
The first event organized, was called "Feeric Fashion Show", because it was only one-night outdoor event in the Small Square of Sibiu and was created to attract attention on local talents in fashion. The project was a success for locals and developed itself into a bigger one. The second edition was bigger but still for one night and the same was the third one. But the new thing Feeric brought was the runway built as a bridge over the road to the Small Square. Starting with the 4th edition the event was called Feeric Fashion Days because of its 3 days of events: fashion shows, exhibitions, conferences, workshops and the different innovative places it started to outline itself as a very creative fashion project. One year later, in 2012 Feeric became an international one and it was a 6 days event. The event kept like this until 2016 when the event finally became Feeric Fashion Week with its 9 days of fashion shows at places like airport, railway depot, factories, castles, streets, rivers, bridges, libraries, stone quarries etc. The model and actress Catrinel Marlon was the ambassador of Feeric Fashion Week last year.
FEERIC 33 for New Talents in Fashion Design is entering its first year in 2018. Since its founding, the competition will become a reference among awards in the fashion industry worldwide.
general description
33 designers will enter the final stage of FEERIC 33 and will showcase their work at Feeric Fashion Week, the greatest fashion week in Eastern Europe, in July 2018. One of them will be named the winner after the jury formed by journalists, buyers and professionals from fashion industry will see the folder of each candidate. The first stage of selection belongs to organizers that will choose the 33 competitors by subscriptions and scouting. The second stage: the 33 finalists must send their mood boards, storyboards and they must produce 3 pieces of their new collection for showcasing them in a collective show, during Feeric Fashion Week.
award
To help them develop the creative work, FEERIC 33 gives the winner the opportunity to launch a business in fashion industry and a 30.000 euros management contract with The Secret Code Of Fashion Agency for the following 3 three years. This support covers all the expertise areas that are critical to a young fashion designer – intellectual property, sourcing, production, distribution, marketing, visual identity, advertising and public relations.

access
FEERIC 33 competition is open to young designers established in Romania, Eastern Europe or anywhere else, who have produced maximum two collections or have less than a year of activity and who are under 40 years old. Applications are welcome starting 1st of November 2018 and may be submitted via email to myra@feeric.ro and info@feeric.ro with all the requirements below:
Curriculum Vitae and a photo of yourself 

General Portfolio

Designer/brand description

5 photos of your last collection (max 10mb attachment)

10 Sketches of your new collection + resume (inspiration, fabrics etc.)

Links to press articles, press review s, features and appearances (if any) 
key dates
Prize launch: October 2017

Online applications: 1st of November 2017 – 1st of May 2018

Selection of the 33 finalists: 10th of May 2018

Completing the folders with the finalists ( they will showcase 3 pieces of their new collection at Feeric Fashion Week

Winner selected by the Jury and awarded in Feeric Fashion Week Gala – July 2018
Discover more about 'Feeric 33: new talents competition 2018' here.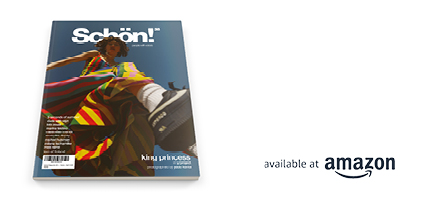 Discover the latest issue of Schön!. 
Now available in print, as an ebook, online and on any mobile device.