As December approaches and we discuss whether or not we had put up the Christmas tree – or Hanuka decorations- prematurely, a landmark passes unnoticed by most. Established to unite the voices and fight against one of the world's deadliest pandemic, World AIDs Day takes place the 1st of December since 1988 and, one more year, Designer Against AIDS makes sure we don't forget.

Just last year, more than 36 million people were living with the virus and, from those, 1 million resulted in deaths. Although these numbers are becoming less haunting over the years and being diagnosed today is nothing like the 80s, these are numbers we can't ignore. Nowadays, the clinical adversities surrounding AIDS have almost been replaced by the social, and the need to spread knowledge and shed light to remove the stigma and discrimination stuck since the 80s becomes greater. And we can agree that knowledge is key when most of society can't tell the difference between HIV and AIDS.

That's what Designer Against AIDS is here for. Fundraising for charity and uniting talent around the world for the cause, the non-profit organization founded by Ninette Murk has been actively working for more than a decade. Having collaborated over the years with retail giants such as H&M, and celebrities such as Katy Perry and Rihanna. The main aim of the NGO is to educate youth about safe sex and HIV/AIDS awareness, thus erasing the stigma and discrimination whilst raising funds through selling donated fashion items and garments from collaborations with brands such as Marc Jacobs, Eastpak, Delvaux, H&M, Belgian fashion houses Essentiel Antwerp and JBC. Because everything comes from donations, 100% of all sold items go to fund projects such as Asia Against Aids-Back To Zero.

From iconic T-shirts by designers and celebrities such as Robert Smtih (The Cure), Elektro band Vive La Fête, graphic designer Paul Snowden and lots more, plus authentic items made by Antwerp designers from vintage Hmong fabrics from Asia – everything can be found on DAA's online shop. This year, DAA has added hundreds of new items to the store in time for the holidays and created a fun fashion shoot with Belgian top photographer Guy Kokken and four amazing models, all taken in the headquarters of Designers against AIDS and its 'Youth For A Better World' education centre. So, before you jump to the high street for your Christmas shopping, why not support a good cause and spend your pennies on DAA whilst getting amazing pieces?
Make sure to follow Designers Against AIDS on Instagram and support the cause by shopping their online shop.
Photography / Guy Kokken
Creative Direction / Ninette Murk 
Fashion / Ingrid Martens
Models / Joseph Joan, Seija Mistiaen, Anke Mistiaen and Joyce Colfs
Words / Sara Delgado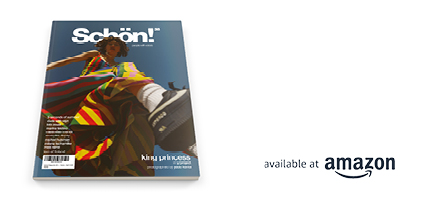 Discover the latest issue of Schön!. 
Now available in print, as an ebook, online and on any mobile device.