When we reach Christopher Raeburn, he's in his new studio, which he and the team recently moved into. Still shifting boxes and adjusting the new space – incidentally Burberry's ex-Hackney HQ offices – Raeburn's studio is in the process of preparing AW17, as a recent shift saw him consolidate both men's and womenswear into one show – the result of which will be shown at London Fashion Week Men's. He's also just revealed his Eastpak Artist Studio design, alongside a high-flying group of industry greats. Since its 2010 inception, Eastpak Artist Studio has seen designers such as Jean Paul Gaultier and Walter von Beirendonck take the challenge of designing a one-off piece, the proceeds of which go to Designers Against Aids. Taking his signature animal mascots and stealthily applying his re-made ethics to the design, Raeburn talks to Schön! exclusively about the intricacies of balance, sustainability and ethics in fashion.
How did you come up with the Eastpak Artist Studio design? What was the process?  
The really important thing for me wasn't just to do something completely different, I was really keen to actually use the two bags that Eastpak sent us and make something completely new. It was really bringing the two worlds together.
We developed an orangutan for spring/summer '16 and then gave the earnings to the Orangutan Foundation. That's what made them so popular. I was really keen to bring the two worlds together: to completely deconstruct the original Eastpak bags and make them into not just a back pack but also into a bum-bag, to go with the orangutan.
What's the story behind the animal mascots? As you mentioned, you've been doing it for a few seasons, how did that come about originally?
They actually started as a university project back in 2001, where we were asked to present our favourite fifty fabrics. To begin with, I made these patchwork monkeys. It led to us getting a full page in The Face, which was kind of mind-blowing – I was a nineteen-year-old kid – and then this idea kind of lathered around in my brain and started to come back in 2009 to go alongside the first collection.
They kind of underpin everything we do as a company because they, I'd like to think, they're really well made, they have that sense of humour but actually it's about sustainability. But without getting preachy. 
So this special project is – at its heart – a charitable initiative, a collaboration on a global scale. Talking about HIV/AIDs crisis, what's particularly important to you about this cause? 
As a designer, particularly as you grow up, you realise you have an opportunity to bring visibility to certain subjects, maybe ones that you don't know so much about. It's amazing what Eastpak do – the caliber of artists, designers working on this project. To have the opportunity to make this bag, that we obviously hope will then be auctioned for quite a lot of money, it's something that really, I've been pretty proud of.
In terms of social situations globally, do you think fashion has the potential to be a medium with a voice? Do you think it should be? Do you think there is a need for more socially involved action?
For me, personally, it's always been about design leading the conversation. I think if you, as a designer, provide your customer, your bounds, with a better choice then that's a good thing to be doing on a basic level. I think you have an obligation to be as educated as you can be about the decisions that you're making as an individual and how they impact on everything else.
More specifically, on the structure within the company – as a platform, do you think there's a potential as well, for passing on that message?
I firmly believe that we can't continue consuming in the way that we are, full stop. Something has to change and we have a firm commitment as a company that we're looking at three key areas: remade, reducing and recycling. That's essentially everything that we're doing, everyone we're working with will take in one or, ideally all three of those areas. I don't know if that should be a political statement, but to me its just good sense. 
You mentioned your ethics as a company are built very much on recycling. How do you work with textiles, how do you source them?
Not to say that it's always completely linear… the truth is that, sometimes, we've found original items that have led a quite clear development of the concept and the narrative. Particularly, for example, autumn winter '15 we did a collection called Raft…
Right, you had the survival kits that you'd found. What was it? The survival rafts…
Spot on. I just bought one of those – actually online – and then this thing arrived with everything inside to survive on the open ocean I think, it was up to a month; I think for twenty-five people.
You're very much UK based in terms of production, design. Does that business model, as a company, found your principles?
As we are growing the business we are also looking at really good choices on how we can grow other, sort of, sections and that's the three R's: remake, reduce, recycle. Now, recycled products in particular are a clear opportunity, where we really start to review our supply chain, our carbon footprint.
Finally, you're now in the run up to London Fashion Week Men's now, right?
Exactly, I think we're going to be OK. I am really thrilled about us taking that much more time to really make sure the product is the best it can possibly be. So I'm kind of looking forward to it.
Discover the Eastpak Artist Studio pieces here.
Support Designers Against Aids here.
Words / Patrick Clark
Follow him here.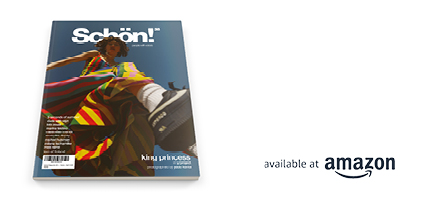 Discover the latest issue of Schön!. 
Now available in print, as an ebook, online and on any mobile device.