The world is not a very happy place in 2016 for so many reasons. It seem we are surrounded on all sides by death, murder, terrorism, refugee migration, political and financial instability and although to talk of fashion and the global situation might seem an oxymoron, even the most egotistical or self-centred of designers must be aware of the atrocities currently in force. Since Alessandro Michele arrived at Gucci his escapist – yet familiar – jumble of pieces, eras and looks have struck a chord with viewers. The mix of nostalgia and optimistic styling is perhaps an answer to what is fashion now? Is this a time to experiment, or be overtly modernistic? 
So, what was happening at Paris haute couture in relation to this view of perhaps looking backwards, but also offering a safe view of clothes and style in a troubled world? 
There were certainly a few good discussion points going around this season. The House of Christian Dior held its fire on who would replace the two current caretakers and made no statement; Valentino refused to comment regarding the split of the pair who have so successfully reinvented the house, especially since they have done this without erasing the house signatures. Finally, "wheat" became the single most used word for everyone writing about jewellery since Chanel, Boucheron, Millerio and Chaumet all included wheat somewhere in their presentations.
Anyway, since the shows start on Sunday afternoon and will have been completed by Wednesday evening it is a short injection of fashion, so who provided sparks?

Monday was opened with Bertrand Guyon at Schiaparelli which was not only a brilliant mélange of the heritage of the house but daringly reinterpreted some of the most famous pieces for today. The famous circus jacket and the astrological influences were there yet Guyon magically made everything look  fresh and desirable. The full couture repertoire of fabrics, decoration and construction appeared at the pinnacle of their technique, perhaps with a delicate hint of Christian Lacroix; where Guyon has worked incidentally. The actual silhouettes and the way they were worked in the Schiaparelli ateliers was supreme, and again as shown by the women in the audience, the pieces can be separated and worn in individual ways. 
Tuesday had Chanel – Karl Lagerfeld who insists he only ever looks forward, returned to the nub and core of couture since the earliest days; the atelier. 
Wednesday showed us that true creativity, couture and a desire to show ideas can produce a recipe for delicious clothes. Firstly Jean-Paul Gaultier abstained from overstatement in a collection at the end of which many people stood and cheered. Fabulous jackets, followed by brilliant trousers, sharply tailored suits, voluminous coats, Madame Grès style plisse draped dresses, voluptuous fabrics and decoration combined into an exposition of the Gaultier approach to La Mode. A true successor to Yves Saint Laurent; Gaultier self-referenced without being boring or pedestrian, throwing a glance at his greatest success  and the superb skills of his workrooms.
Viktor & Rolf collaged their collection which was as ever extraordinary, but unlike the gallery and sculpture collections held a great many more clothes to rush to the atelier and buy. This was a collection built around fabrics from previous seasons. They also cited Charles Dickens vagabonds as an inspiration, which is certainly nostalgic. Woven in abstract art panels embellished with buttons, coins, bells and truly a cabinet of curiosities, this was a superb demonstration of re thinking the techniques, the craft and the uniqueness of couture. The silhouettes building up to the Worth crinolines of the Empress Eugenie, the first couturier and celebrity client partnership, were breath-taking as they moved and drifted across the space at the Gaîté Lyrique theatre.
Valentino closed couture, this was a collection of such perfection and drama it would have been difficult to follow it. The Shakespearean theme was brilliant since in the hands of this duo it was as Italian as it could possibly be. Bronzino, Tintoretto, Renaissance portraits, Florentine intrigue and possibly a dash of Romeo & Juliet, set in Verona, since the opening music was Prokofiev's ballet music for that story, this was amazing in it's attention to detail. The slashed sleeves sometimes just cut, sometimes laced and ribboned, the ruffs of every description, the Puritan collars, the black and white, then the slices and drifts of red. The majestic and stately pieces were beautifully contrasted with ethereal wisps of misty tulle and delicate filigree pieces. Magical.   
Alexis Mabille and Julien Fournié must be mentioned for upholding the couture tradition for France. The beauty of great ball gowns is a tradition which includes Pierre Balmain, Jacques Fath and Christian Dior amongst others. These two young men produce collections whose commitment to couture is unquestionable. Their ateliers work with them to produce beautiful clothes from collector's edition blouses at Mabille to weightless slivers of crepe at Fournié.
As an extra note there are those whose raison d'être is modernity;  Iris Van Herpen, On Aura Tout Vu and Serkan Cura. Yet in every case there are signs of the original craft and art to uphold the futurism of their approach. Zuhair Murad also deserves special mention in this round up for creating the most spectacular red carpet, show stopping and flash bulb igniting pieces to be seen to date. Bob Mackie sexy, couture lavish and heritage craft all in one.
So couture is not only alive, it is kicking; from the drama of the blood red droplets cascading down a Julien Fournié drôle de drame gown, to the sharp restraint of a black tailleur by Gaultier. The skills and the heritage of couture are in safe hands. It's time to watch customers descend and shop  because they are buying the heirloom pieces of tomorrow. Fashion is carefully looking behind before stepping forward in the currently uncertain and uneasy future. Couture on the other hand is thinking about its heritage of glamour, excellence, and chic.
Words / Tony Glenville
Follow him here.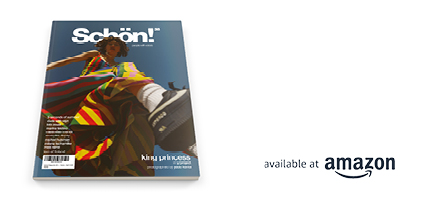 Discover the latest issue of Schön!. 
Now available in print, as an ebook, online and on any mobile device.