Born in Madrid to Andalusian roots, DEvaya takes pride in its outstanding artisanal ethos. Handmade with care in the Spanish capital, DEvaya's jewellery emanates its creators' passion. Rocío Soria de Vaya is the backbone to the innovative yet artisanal designs. Having worked for companies like DELPOZO and MIMOKI, this year, Soria de Vaya sets up her own fashion brand, DEvaya, following the conviction to infuse Southern Spain's warmth with both ground-breaking designs and traditional production methods — an effort brought to life with her associate Ana López Calero.
Mixing natural elements with geometric shapes, DEvaya unveils the quasi-Elysian soigné lookbook for its debut jewellery collection: COEXIST. COEXIST prominently and piously displays celestially experimental designs, mirroring its designer's own fascinations. Exploring shapes and silhouettes with materials of the highest quality, DEvaya equates jewellery to the highest form of fashion. "We want to reclaim the presence of nature in the world from becoming [increasingly] artificial," the duo explains. "We think that the natural and the artificial can exist in harmony and we [aim] to [prove] this with [the] collection.
Envisioned for strong, powerful yet playful women, COEXIST radiates with ambrosial delight, adding a luxurious element worthy of any Goddess. Looking at jewellery as an extension of personality, DEvaya fills in the space of an olden tradition within a modern ambience with its uniquely playful designs yet stern motifs.
Taken straight from nature, DEvaya's pieces are refreshingly wearable and transformatively unique making up a contemporary collection that reflects its creators' impassioned attention to detail and delicacy — a task DEvaya will keep exploring. "We want to keep experimenting with jewellery and we are not ruling out working in other sectors. What happens if we take everything we have learnt about jewellery and apply it to bags?" the duo proclaims. "We want DEvaya to be a multifaceted brand: free, evolving, without limits, and allowing us to continue experiencing, learning and growing."
Explore COEXIST on DEvaya's website and keep up to date with future collections here.
designs. Rocío Soria De Vaya
featuring. DEvaya presenting COEXIST
photography. Michèle Novovitch
art direction. Ana López Calero
model. Anisia Kolotusha
hair. Álvaro Talayero
make up. Carolina Sánchez Carmona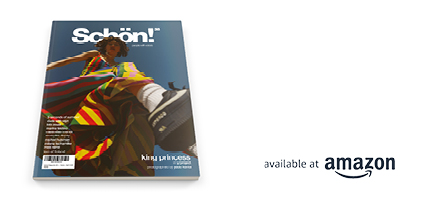 Discover the latest issue of Schön!. 
Now available in print, as an ebook, online and on any mobile device.