Back in December, Bella teased her collaboration with iconic LA Brand Chrome Hearts with a picture of her very own graphic tee. Almost half a year later, we meet up with the younger of the Hadid sisters to get the full scoop on the highly anticipated collaboration. Having already successfully opened in Paris, now it's London's turn.
It seems only natural for Bella to collaborate with Richard Stark's timeless brand Chrome Hearts. "In LA and Malibu everyone looked up to the Starks for not only fashion inspiration but because they were just the coolest family in town," she says. "When I became best friends with Jesse Jo, something just clicked. It wasn't about just being best friends it was more about us as a family. We knew that working together wouldn't ruin our friendship, so once we decided to start working together everything blossomed into this collaboration."
The collection features 25 pieces of apparel and accessories that embody Bella's unique style and creative energy. In Bella's own words, "it's so much more than we actually expected". Crediting Warhol muses and the New York art scene of the 1960s as well as '90s culture as the main inspirations, Bella presents us with an eclectic yet completely wearable colour palette of millennial pink, leopard leather and, of course, hardware. "I made a lot of school girl skirts and such," she says. "I wanted to make and ode to the old school stuff that you really do see if you look back in the early '90s: Britney was wearing them, Pamela was wearing them; all the really cool girls were wearing them and I want to bring it back, to represent it with a modern twist."
Bella admits her favourite piece is the Bondage, a ¾ length leopard print coat fused with S&M-reminiscent leather straps, buckles, and zippers. Undoubtedly a unique piece, not only because of the polished design but due to the fact that there are only 9 more made in the whole world. "It's crazy, she completely designed that bondage piece herself," explains Jesse Jo. "I know she got inspired by '90s archive pieces but I need to credit her immensely. The collection is really reflective of her style."
Don't despair if you're drooling over the pieces but can't quite make it to a store to buy them. Although the '90s rocker-punk inspired collection is already selling out, Jesse Jo assures us that "there are everlasting pieces. Some of her pieces will always be there."
Bella's busy schedule and complete involvement in the design process makes things go slow. "She's hands-on. She doesn't simply get a sheet of ideas and she picks and chooses," says Laurie Lynn Stark. But this is definitely only the first instalment of many to come. "We haven't spoken about the future because right now we're so in it that we still have so much to do and I have so much to learn," she says. "However, we are talking about maybe doing a shoe collection, we're still working on both sides with production, styling… But we want to push this collection as much as possible and we will continue to put new pieces in."
Discover the Chrome Hearts collection here and at Selfridges, London.
Words / Sara Delgado
Follow her here.
Photography / Laurie Lynn Stark
Art Direction / Jesse Jo Stark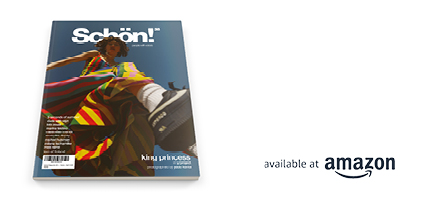 Discover the latest issue of Schön!. 
Now available in print, as an ebook, online and on any mobile device.