Cate Blanchett and Rooney Mara deliver award winning performances in Todd Haynes' breathtakingly beautiful love story.
American author Patricia Highsmith is probably best known for psychological thrillers such as The Talented Mr Ripley and Strangers on a Train, but back in 1952, she published a romance exploring the relationship between a twenty-something shop girl and an older, married woman. This was a time when heterosexual love – and love that led to marriage – was the only kind deemed acceptable, so it is no surprise that Highsmith used a pseudonym when penning The Price of Salt, later to become Carol.
It took many years for Highsmith to admit ownership of the novel. It also took 19 years for screenwriter Phyllis Nagy to get her adaptation of it in front of the camera, but it was certainly worth waiting for a director such as Todd Haynes (Far from Heaven, Mildred Pierce) and a cast of this calibre.
Therese (Rooney Mara) lives alone in small New York apartment. She takes photographs, but is yet to explore her talent, and in the meantime, works in the toy section of a department store and avoids marriage to the persistent boyfriend she has lukewarm feelings for. Step in Carol (Cate Blanchett), the glamorous and beautiful woman who wanders into the store to buy a Christmas present for her young daughter. Immediately, there is a fascination and chemistry between the two. Having 'accidentally' left her gloves on the counter, Carol thanks Therese for returning them by taking her out to lunch and thus begins the affair.
However, this is not simply the story of a confident woman seducing an impressionable young girl. Beneath the elegance and expensive furs, Carol's world is falling apart. She is separated from Harge (Kyle Chandler), her boorish husband, already bitter in the aftermath of his wife's dalliance with her best friend Abby (Sarah Paulson). Although the couple are filing for divorce, Harge is desperate in his determination to 'keep' Carol, ready to exploit her questionable 'morality' and use their four year old daughter as a pawn in the process. Therese needs Carol to unearth a yet unexplored part of herself for her life to truly begin, but Carol needs Therese as much, if not more, to fill a void and ease the despair of a mother losing her child.
The two take a road trip together and fall in love, but there are consequences in an era when same sex relationships were generally considered a perversion, and the consequences here are heart-breaking: ultimately, Carol has to decide between life with her lover or custody of her child, and submit to a stifling and suffocating existence if she is to choose the latter.
The scenario could easily escalate into melodrama, but Haynes handles the subject with such subtlety and skill that it never does. Dialogue is kept economical, as the characters attempt to constrain their overwhelming inner emotions. Instead, every expression and mannerism is allowed to speak a thousand words. Visually, it's a feast. Instead of the darker, richer shades of Far From Heaven, Haynes has worked with cinematographer Ed Lachman to capture the faded, muted tones of 1950s magazines using Super 16mm film. The production and set design are also stunning and flawless in their attention to detail.
And then there's the casting. Just when you thought Cate Blanchett couldn't possibly get any better, she gives us a character that is so believable that if it was her first performance, she'd be remembered as Carol for all time. Rooney Mara is the real surprise though. With her short fringe and huge, doe eyes, you could forgive her for falling into an Audrey Hepburn-esque pastiche of the ingénue. Instead, she tells the story of Therese – seemingly blank and passive but, as it turns out, feistier and more feeling than initially imagined – with virtually no effort at all. If both are not showered with award nominations, it will be a travesty indeed.
Carol is in UK cinemas on 27th November.
Words / Huma Humayun
Follow her @londonstylist

Photographs courtesy of Studio Canal.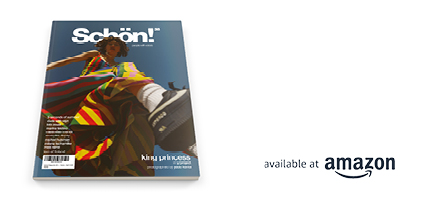 Discover the latest issue of Schön!. 
Now available in print, as an ebook, online and on any mobile device.