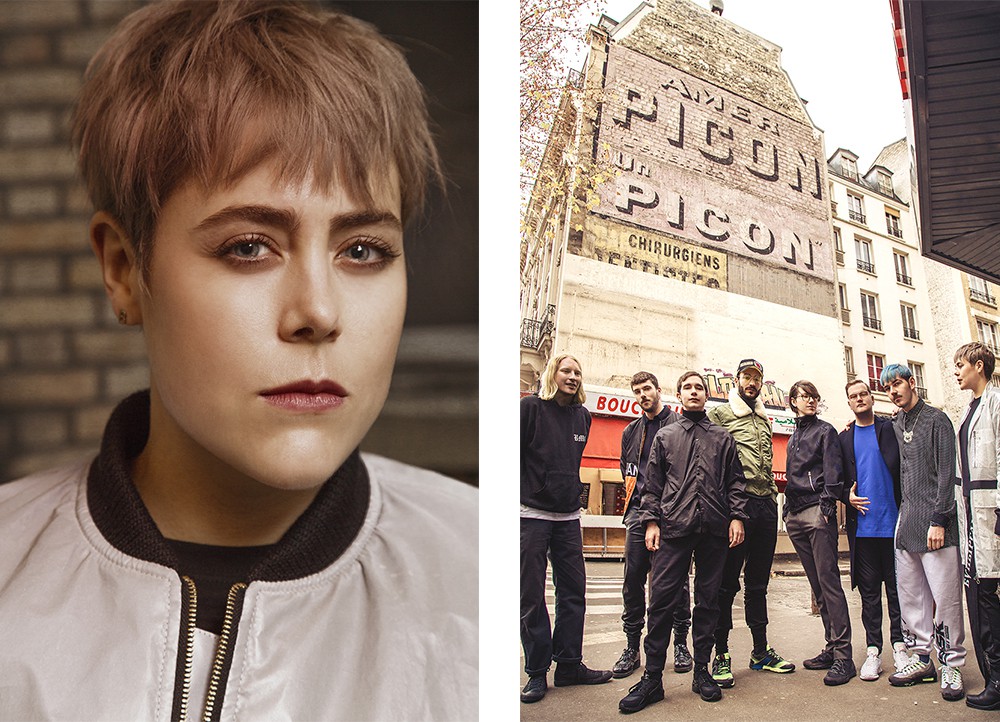 The deeply, darkly melodic beats of Louisahhh are currently purring their way through the French music scene via Shadow Work, her latest release through Bromance Records. The honest exploration of intimate feeling through the lyrics, juxtaposed with strong techno beats adds an enthralling new dimension to electronic music. New York born but made in Paris this hard hitting DJ chats to Schön! about the industry, her sound and the process behind her lyrical allure – "It's good to want, it's good to want, it's not enough, don't ever stop" – and we don't think she will.
How do you feel your music fits into the Bromance sound?
That's an interesting question in that Bromance is a label that is not genre specific.  I guess my work fits in because it is tough, 'dark' music.  I think the goal behind what we release is often to get away with making the weirdest, most forward-thinking stuff we can get away with while retaining a 'pop' mentality; while musically I love making music that really goes off in a club, lyrically, it's pretty subversive and perverse.  
What draws you to the dark and melodic energy that reoccurs throughout your mixes?
Much like Bromance doesn't have a genre, I don't like to be fenced in by naming the style of music I play.  With this logic, I am forced to come up with different ways to define my sound. I like mixes and sets to have a real emotional content, guts.  I find that it takes presence and patience to convince an audience to be willing to have some of these more intense feelings with you, to follow you on a journey; for me, the most effective way to get there is to use these 'dark and melodic' tracks, as you mention. They are my favourite.  
Can you describe your writing and producing process to us? How do you go about working on your tracks, then with Bromance?
Though the process varies from song to song, and in collaboration, usually it starts with words.  I am writing constantly and singing along to other peoples' tracks with my own lyrics and melodies a lot.  In full honesty, I'm not a great producer.  I need a lot of help.  So, I get a little sketch of a track and all the lyrics ready and then find the best person to help me serve the sound I'm seeking.   For instance, on 'Shadow Work', I had the incredible help of Shelter Studio (Nico Borne and Pierrot Casanova), who helped me complete the EP and make it sound like real club material.  
With Bromance, it's always a little tricky or scary because like I said, it has to be futuristic enough to push the envelope – it can't be work based in the past, or built on references of something that already exists.  Conversely, it must also be catchy and 'mainstream' enough to go over in clubs, it must be big.  Every time we do a listening party for demos, I want to throw up because of the number of times I've been told that I don't have it yet, get back to work.  This is not the way most labels work but I can safely say: Bromance has never asked me to be what I am not and it has never let me be less than what I am.  Never settle.  
You released Shadow Work EP with Bromance Records last year, how would you summarise the aura behind this 6-track release?
'Shadow Work' is a lot about becoming whole…not to split from and reject the darker parts.  There is a lot of struggle in coming to acceptance, especially of oneself, in my experience. In 'Ready', the lyrics go 'I'm ready to expose the shadow/Love it deeper'.  That's it, I think.  
From growing up in New York to now being based in Paris, do you feel a difference in the surrounding the techno, producer scene?
I feel like I could never do the work that I'm doing (and make a living) in the USA.  The market for the type of music I play and make is definitely in Europe.  America, though it has it's cities that really celebrate and embrace techno, still treats it as 'underground', which is great for the 'purity' and 'realness' of the subculture but is really hard to live off of.  That being said, there are incredible talents around the world, and a global community of friends, peers and heroes that is indescribably wonderful and inspiring.  
Do you feel that the techno and DJ industry is a very male dominated world? How has it affected your work?
It is incredibly evident that this is a male dominated industry.  While I may be affected by this as a problem in that if 75% of acts on festival line-ups or club calendars are men, I believe that the solution lies in the hands of booking agents and promoters and labels to advocate for, sign and book female talent.  Note that I say 'talent'; there are plenty of amazing producers and djs who happen to be women.  Paula Temple, Jlin, Holly Herndon, Steffi, Magda, Jubilee, The Black Madonna, Eclair Fifi, Anna Lunoe, Nina Las Vegas, Star Eyez, Denise Kurtel, Rebekah, Gina Turner, Planningtorock, Lauren Flax, Miss Kittin, Charlotte De Witte, the list goes on and on and on.  It need not be a weird feminist 'affirmative action' plan; there are so many awesome girls that have earned a place on stacked line-ups.  I can't wait for the day when we can have a 50/50 male-female bill and not have to talk about the fact that girls are playing because it is so normalized.  That being, I work a lot from this idea of a 4th wave riot girl, warrior-queen archetype.  I'm not sure if that's because of the men I'm surrounded by, but they certainly make it more interesting and pointed. 
How does touring with Bromance differ from your individual shows?
Bromance shows are really fun because you're surrounded by all of these people you love and respect shining madly, doing what they do best – it's an incredibly inspiring environment.  Usually I play at the very end of the night, so that requires a different skill set than gigs I do alone, where I would play peak time.  The job is different – for the late crowd, you have to make them want to stay with you till the end and be quite brash because usually if you start at 5 am, everyone around you is on a different plane of consciousness.  Solo gigs I can get away with easing in a little bit more, playing more subtle and weird and sexy.  I love both playing as part of the team and on my own, they are delightful in different ways.  
What was your involvement in the creation of Bromance's Homieland Vol.2?
I did a track with JoeFarr for homieland…I had been a fan for a long time and a collaboration came quite organically, I'm really, really happy with it and excited to work as Coping Mechanism more in the future.  
How do you feel about taking the title 'Queen of French Techno'?
This seems ridiculous, as I am an American, and there are lots of French women who are incredible Queens of French Techno: Miss Kittin, Jennifer Cardini (who is from Monaco, but that's way more French than New York), just to name a few.  I will gladly take the title, though; it's my adopted country and I can only hope to embrace France as lovingly as France has embraced me. I am grateful and flattered to be able to make this music with these people in this exciting moment. I wear this crown with ferocious joy.
Discover the full Bromance feature in Schön! 30

Words / Treeney Harkin
This Schön! editorial was produced by
Discover the latest issue of Schön!. 
Now available in print, as an ebook, online and on any mobile device.