Born in Sète, a major port city in the South of France, photographer Julien Boudet, notably known as Bleu Mode, pays homage to his hometown and its inhabitants through a black and white series of portraits in his new book Bleus Visages. Returning to the almost-island bordering the Mediterranean Sea, the renowned fashion photographer takes a turn from his everyday work to tell the tale of community while illustrating the journey and history of the Sétois. Bleu from his nickname Bleu Mode originates from the blue hues of the Mediterranean Sea that surround his hometown, and although this project does not fall into the arms of fashion, Boudet wanted to maintain a strong connection between his nickname and photographic work. With regards to his nickname, Boudet titled his book Bleus Visages, French for 'blue faces', in reference to the Sétois faces that have evolved over the years by the sea. Schön! caught up with the photographer to discuss the inspiration behind Bleu Mode and to learn further about his book and current exhibition Bleus Visages.
You've made quite a strong impression in the fashion industry this far. What inspired you to devote your career to fashion?
I've always been interested in style more than fashion. In high school, I really started to care about my look… I would pick one pair of nice sneakers for the year and I'd get nice tracksuits to go to school with which I used to trade between some friends. Yet, the older I grew, the more passionate I became and this eventually turned into "real fashion," especially when I moved to NYC in 2008. At this point, I could finally learn about designers and fashion houses unlike where I was born and raised in Southern France where there was no fashion at all, mostly just streetwear like Lacoste and Adidas tracksuits, and Nike Air Max sneakers. Living in NYC inspired me to gain a proper education in photography and fashion so, at the age of 26, I began to study at Parsons the New School for Design in Manhattan. I studied at Parsons for two years before dropping out which was when I started freelancing.
Many know you as Bleu Mode, how did you come about creating this name for yourself?
After a couple of years analyzing city life, I knew that the fashion photography market in NYC was already super crowded and I didn't want to freelance with a regular domain name like "julienboudet-photography.com". I wanted to find a nickname that represented my vision and who I was. I thought about it for a couple weeks and eventually came up with Bleu Mode.
How did you develop such a keen eye and interest for photography at first? Did this come naturally?
Yes, it did come naturally. Since the day I picked up a camera in NYC to send pictures of my new city to my mom until now, it's always been natural.
Apart from fashion, are there any external outlets you take inspiration from that apply to your work?
I am very much inspired by architecture; I shoot a lot of it when I travel for work. It's definitely something that I really enjoy and that will always be present in my work alongside fashion. 
You recently launched your first book Bleus Visages. What inspired you to work on a project of your own that wasn't directly related to fashion?
Bleus Visages is a very personal project about the people from my hometown. Before moving on with my career as a photographer, I felt like it was the perfect time to go back to my roots to tell the story of this wonderful place that is Sète, in Southern France. I wanted to show my audience that I wasn't born into fashion and that I can also do projects that are more authentic rather than just working with models and nice clothes. 
Give us a peek into your new project; what should we expect to see?
You will see black and white portraits of real people shot on 120mm film, some detailed shots of my city, and a lot of interesting and strong faces.
Black and white photography is most prominent in this book, what made you stray away from working in colour?
95% of the time, I shoot in colour for my fashion work. Since this project was only about portraits and photography, I truly wanted to show that I am versatile and can also do other projects away from fashion. Also, I love black and white portraits since it feels authentic and timeless which is important because I want this project to stay in my hometown forever, so that future generations can look back and have a clear idea of what Sète was like in our time. 
What inspired you to return to Sète, your hometown, to work on this project?
For me, it was obvious that I should head back to where I'm from to pay tribute to my hometown and people. Now that I've done it, I can move forward and start working on other projects elsewhere in the world, and it doesn't have to be super personal anymore.
You currently have an exhibit on display that is based on Bleus Visages. What can viewers expect to see during this time?
The space itself is incredible. It is an old chapel that burned a couple of years ago and was turned into an art gallery without doing many renovations. The walls are still burned, the high ceiling is very impressive, and there's such an intense atmosphere in there… It's definitely a very unique place, where my black and white images fit perfectly.
After its viewing in Sète, do you plan on presenting this exhibit elsewhere?
I will do another book signing in NYC during fashion week in September and I definitely would love to make it travel. I am planning on having the exhibition in Taiwan later this year and hopefully in different countries before the end of 2018 or early 2019.
Is there a message you hope to deliver to your audience through Bleus Visages?
My goal was to do an analysis of the faces of the Sétois, but there was also a social aspect to it: gathering everyone in the same space who are all from different backgrounds, genders and generations. Basically, people who wouldn't normally talk to each other on the street but share the same love for their city. In other words, I wanted to unify those people, at least during the opening of the exhibition and in the book. 
What has been your greatest takeaway from this project? Any challenges?
I realized that it takes much more work than I expected before starting this project, and I've learned a lot about completing a long-term project and working with a team. That said, a huge and special thanks to all the people who supported me and to the bleu mode team. 
If you were to give a word of advice to those who follow you, what would it be?

Work hard and be nice to people.
Do you have any other major projects in the pipeline for this year?
For now, I am going to focus on the Bleus Visages exhibition since I'd like to make it travel a little. Once that's done, I will probably launch the zine that I've been working on for about a year and a half, in early 2019. This zine will combine my 5 years of fashion, reportage and architecture photography in one little magazine or soft cover book. À suivre… 
An exhibition for Julien Boudet's book, Bleus Visages, is currently up for viewing at La Chapelle du Quartier-Haut in Sète until July 29th and available for purchase at www.kahleditions.com.To see more from Julien Boudet, visit his personal website here.
words. Amanda Breeze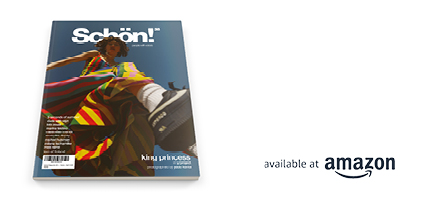 Discover the latest issue of Schön!. 
Now available in print, as an ebook, online and on any mobile device.