Oslo Runway is Norway's very own fashion week and with just over a million citizens residing in the capital, this small country exudes personality and gumption through their very own design aesthetic and visual identity. Copenhagen and Stockholm have for many years paved the way for Scandinavian design and has portrayed a certain aesthetic that is thought to be unified throughout the Scandinavian landscape. However, Oslo Runway is different and exhibited their best designers all loyal to their own aesthetic and ideas — creating their own sphere of creativity, separated from the aforementioned cities. Schön has picked the top seven designers to watch for SS19 from Oslo Runway.
Eva Emanuelsen is the mastermind behind Epilogue and is a familiar name on the Oslo Runway calendar. Her collection offered strong masculine shapes, tied together with geometrical pleating and irregular hemlines. Eva is a genius when it comes to sourcing fabrics and, for this season, she also included several full-leather looks drawing similarities to Trinity from the Matrix. Her collections feel feminine and strong, yet never vulgar.
This CSM graduate has proven herself globally and internationally with her abnormal take on pleating, folds and layering. Anne Karine Thorbjørnsen has created a collection that takes a giant leap forward, embarking on new techniques and ways of dressing the female body. Her clothes are in constant movement and wear you just as much as you wear the clothes. The collection is embellished with ruffles, tullè and dyeing techniques we haven't seen from her before. Her colour palette is not restricted by trends or tendencies, which challenges the way we look at her creations.
Iben's collection felt more like resort, than mainline — and that is not necessarily a bad thing. Easy-to-wear wrap-style pieces in bold colours scattered across the suntanned bodies of the models, which brought out the remembrance of warm summer days in the sun wrapped in organic fabrics and woven surfaces. There are a certain airiness and calmness around the collection: it feels relaxed and very well thought through with the right mix of thick carpet-like wefts and paper-thin linen sets in soft colours of sherbert.
Michael Olestad was the highlight of this season, proving he is one of the best in the country. The collection was a mix of controlled chaos and glamour, mixing something as masculine as a suit, cutting it in half and inserting it in the hem on a knitted tube top, creating a new and improved idea of peplum. The collection also featured denim, which is not something you see Michael do often, but his idea of modernising and changing the appearance of denim made the collection stand out as something relatable and wearable.
Bror August has impressed the international and national press for years with his unorthodox and sometimes absurd ideas of design, his clothes feature hidden elements of humour and clichés — used to promote something that's young, fun and wearable. For this season, Bror August opted for barely-there cut-out pieces, traditional Norwegian knitting techniques and holding-on-by-a-thread items embellished with his own name in bright fluorescent colours.
O—F—C is a big community and it consists of a collective of designers working towards one ideology and an aesthetic that appears more international than national. The collection features harsh asphalt hues of black, and crisp white accents — all holding on by industrial straps, elastics and a touch of bondage. The collection felt neutral and at times sterile, which was refreshing as the finished product was one of the best this season.
HAiKW/ has become a favourite within the thriving art scene in Oslo, which is exemplified by their innovative ideas and techniques. Haik pushes the boundaries more than anyone else, putting the models in massive wooden clogs, a gender-bending casting, not to mention that they have an impeccable attention to details both with their graphic design as well as using old Norwegian wool traditions to emphasise their roots and commitment to everything local.
For more information about Oslo Runway, click here.
words. Madeleine Holth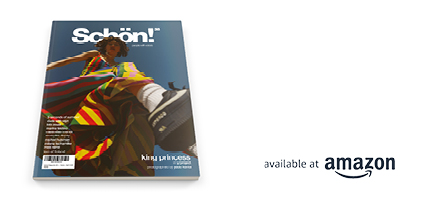 Discover the latest issue of Schön!. 
Now available in print, as an ebook, online and on any mobile device.