Step inside the world of China's Queen of Electro Pop in Schön! issue 27's exclusive interview with Laure Shang. Writer Roxanne Golding talks to the musician about philanthropy, fashion and winning Human TV's Super Girl Voice, alongside an editorial by photographer Leslie Hsu.
To read the full interview why not get issue 27 of Schön! magazine in print, online or on your mobile?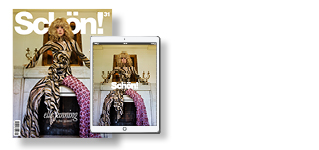 Discover the latest issue of Schön!. 
Now available in print, as an ebook, online and on any mobile device.