Milan-based production company The Blink Fish returns with a fashion film produced exclusively for the Camera Nazionale della Moda Italiana. On the occasion of the upcoming Milan Fashion Week, Be Ready sees Ukrainian model Nastya Timos determined to be in top shape for the upcoming Milanese fashion season. Frantically trying on outfits, rehearsing for selfies and relentlessly working out, the result is a humorous and light-hearted interpretation of the excitement taking place during fashion week and the preparation involved.
Celebrating home-grown talent, Be Ready features a wide range of Italy-based brands, such as Arthur Arbesser, Gabriele Colangelo, GCDS, Giannico, Lucio Vanotti, Marco de Vincenzo, Paula Cademartori, Sara Battaglia, Stella Jean and Vivetta.
model. Nastya Timos
dog. Chuck
directors. Giacomo Boeri e Matteo Grimaldi
1st assistant director. Lisa Valcarenghi
producer. Antonio Guarrella
production manager. Marco Agnesi
production coordinator. Carlo Alpeggiani
production assistant. Mariavittoria Daquino
cinematographer. Leo Carbotta
focus puller. Niccolò Di Guida
data manager. Francesco Rosiglioni
gaffer. Matteo Orsanigo
electricians. Riccardo Laratro, Elena Minotti
edit. Simone Marangi
post production. Blue Pill Fx
colour grading. Matteo Cataldo
mix + sound design. Andrea Cataldo
recording room. Sample Milano
set designer. Gabriele Cavalchi
assistant set designer. Mattia Pozzi
special fx. Alberto Tonelli
prop manager. Fabrizio Fra
assistant prop manager. Franco Verrecchia
fashion. Georgia Tal
fashion assistant. Giulia Sanna
hair + make up. Maciria R. @ MKS-MILANO
model looks. GCDS, LUCIO VANOTTI, MARCO DE VINCENZO, STELLA JEAN, VIVETTA, GABRIELE COLANGELO, ARTHUR ARBESSER, GIANNICO, SARA BATTAGLIA, PAULA CADEMARTORI
tech service. Videodesign
thanks to. Technogym, ACUA ASD – Associazione Comunicazione Uomo Animale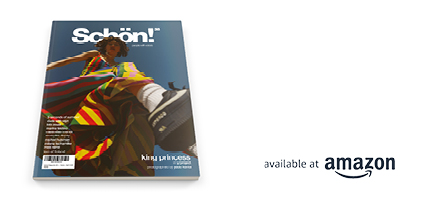 Discover the latest issue of Schön!. 
Now available in print, as an ebook, online and on any mobile device.