Schön! and photographer Luisa Pagani take you behind the scenes at one of the biggest menswear fashion events. Soak in the backstage buzz from some of the most memorable moments of the season and get the full scope on the most talked about catwalks.
Sportswear met the Riviera at the Cerruti SS19 Menswear show. Pants were fabric full with front pleats and skinny belts to tie them down; arms had excess fabric and were held in place at mid-bicep while oversized rain garments were tucked at the front and liberated at the back. Shorts had wide elastic over the waist, similar to a boxer's fighting garb. The colour palette was refined and neutral, stripes crept in on oversized blazers and jackets, hinting to the sea, while camouflage also made scattered appearances throughout the show. Styling featured pulled back hair, round sunglasses and beach slides. However, it was the consistently superb fit of each garment that made this show truly outstanding. 
The SS19 Henrik Vibskov show began with a flying start. Performers entered the centre of the runway in matching jumpsuits to unveil a range of larger than life calico propellers. A repetitive mechanical soundtrack filled the show space while models entered at a stilted, calculated pace. Initially, there was a refined palette, however dark greens and blacks soon turned to brighter yellows and checks. Garments featured Japanese-inspired cuts where unique sleeve patterning allowed layered pieces to catch the wind and float like air. As the show continued, the aeronautic theme became more literal, the word 'soap' repeated across garments and a parachute motif appeared. Little touches also had a big impact — dusts of colour extended onto cheeks, bonnets and skin-tight caps became reminiscent of pilot uniforms, while sandals with wayward ties hinted to flying into the unknown. 
Sean Suen's first model wove around a sun-soaked sleepy park, pink stones crunching under his feet. He sported a full beige look — thick, porous fabric formed a silhouette reminiscent of an oversized poncho, a hat brimmed over his eyes — he could only look down. It was strong. It was time to wake up. Escape, hide, fight was the concept for this collection and as the looks unfolded the designer simultaneously intertwined these complex ideas. Silhouettes were the perfect example of this; t-shirts had wide liberating sleeves, overcoats had broad shoulders, revealing a sense of strength while straight shorts peaked out as though hidden, awaiting escape. Fabrics explored natural earth tones; blacks and metallics crept in along with small pink checks and camouflage — another more literal representation of the designer's "hiding" concept. Styling showcased neckties that were perfectly tightened, their tails standing at attention as though constraining the models' vulnerable necks. Sneakers were either black or white with corresponding long socks, a look that made one think these men were prepared for an escape exit. Fortunately, the models stayed long enough for the audience to witness this sophisticated and excitingly fresh collection. 
The opening looks of the White Mountaineering SS19 show were an advertisement for big loud colours and pattern play. Red, blue and white dominated here — with the odd green, yellow or black perfectly placed as a focal point. As the collection progressed, checks, plaids and stripes made way to camouflage; in this instance, abstract camouflage, formed by wayward twisting squares or graphic scrawled horizontal lines. 
The show became more subdued as it drew to a close, neutrals shone and the looks morphed towards the purely athletic. The styling in this runway was a true highlight as lustful layers reigned supreme and a well-fitted collaboration with Adidas took hold in the shoe department. 
Read more about this season's catwalks in our full round-up here. Find out more information about Paris Fashion Week Men's here. 
photography + video. Luisa Pagani
words. Alana Flood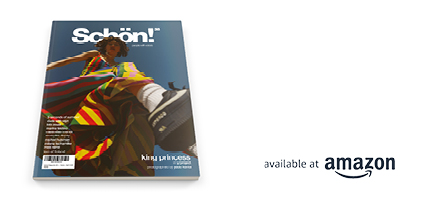 Discover the latest issue of Schön!. 
Now available in print, as an ebook, online and on any mobile device.