Highlighting the ethos of fashion with a conscience, Athens Xclusive Designers Week (AXDW) is proving to be one of Europe's most exciting up-and-coming fashion weeks. Its 22nd edition took place in the luxurious premises of Zappeion Megaron Hall, presenting both Greek designers along with top international fashion designers and fashion houses. More than 30 cutting-edge Greek designers took to the cultural capital with the hunger to compete for the three prizes awarded by the New Designers Awards institution, established exclusively by AXDW. Young talent Eleftheria Kardami, with the brand Blondie.e, was crowned as "Best New Designer", whilst the "Best Trendsetter" award was given to Maria Nakou and "Best Catwalk" went to Irene Angelopoulos. Championing creativity and breaking boundaries on top of the celebration of emerging talent, the event is undoubtedly gaining momentum. Hailing from the Hellenic capital, here are our top picks from this spectacular initiative.

Veteran Vassilis Zoulias presented his collection, entitled 'Women in the Garden "The Summer Edition"', in the heart of the unparalleled Zappeio Megaron gardens. Set to the live rhythm of Athen's Philarmonic Orchestra, the models strutted clad in bold colours and exquisite silhouettes. Vintage hues permeated through the silk and lace pieces, textures perfectly combined with tartan, floral and polka-dot patterns and round off by statement jewellery, stiletto mules and matching print bags. Even the make up reflected the summery essence of the show in the ultimate floral colour explosion.

International lifestyle fashion brand Folli Follie presented a collection named 'Metal Chic'. Fittingly set in a futuristic scene, models strutted their way into the catwalk through a hallo-like entrance. Inspired by geometry and minerals, the jewellery — comprised of bracelets, rings, necklaces and earrings in silver and gold — were paired with minimal graphic bags and striking clothing in velvet and lace from well known Greek fashion brands. The glittery confetti ending was surely the cherry on top of a fun-filled show, perfectly reflective of the brand's ethos.

All eyes were set of special guest Anna Molinari, founder and Creative Director of the legendary brand Blumarine, on this occasion. Held in the Zappeion Hall, she debuted BluGirl in Greece with its SS18 collection. Known as la regina delle rose ("the rose queen"), Molinari presented a feminine collection full of ethereal fabrics and bold colours — pink being the protagonist in various forms and shades. The quasi-transparent lace pieces were adorned with floral detailing and, in an eclectic move, paired with metallic shoes and PVC outerwear.

Following the trend of breaking with traditional gender schedules in fashion, Parthenis presented their collection 'Exaggerated Individualism' featuring both men's and women's pieces. Inspired by Patagonia's 19th century, the collection was exotic and reminiscent of wartime style. The rich fabric textures and embellished clothes forms exuded a vision for a life closer to nature. Also set in the Zappeion Hall, the minimalist fashion-forward collection was elevated by Spyros Pan's live music, describing it himself as "a fusion of contemporary ethnic, post-minimalistic and ambient that I like to call progressive acoustic chillout."
Discover more on Athens Xclusive Designers Week (AXDW) here.

Photography / Panoulis Photography
Words / Sara Delgado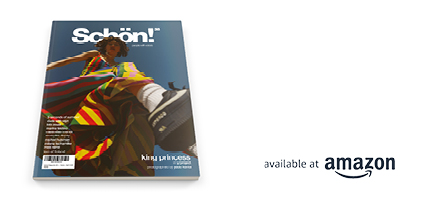 Discover the latest issue of Schön!.
Now available in print, as an ebook, online and on any mobile device.