The streets of Ancient Rome seem as apt a location as any when deciding where to showcase a renaissance, a renaissance of pure craftsmanship and emerging talent that is. The four-day affair is a prestigious Italian assembly where established ateliers and couture designers exhibit collections alongside a selection of painstakingly selected fledgling talents. AltaRoma is the biannual event which really brings home what it means to be Made In Italy.
Altaroma July 2016 looked to be its most explorative edition thus far, focusing more than ever on fresh fashion talent. This edition saw separate exhibits held at three striking locations all over Rome; the suitably named 'Who Is On Next?' is the epicentre of the whole event when it comes to discovering the next big name in design. The scouting project is in collaboration with Vogue Italia, decreed by the Financial Times as one of the world's 'Top 10 Most Important Fashion Prizes' and allows only twelve entries amongst a vast number of applications to exhibit their designs. So, as you can imagine, things get pretty exciting. Previous editions of 'Who Is On Next?' editions have championed what are now well established names on the fashion stage including MSGM by Massimo Giorgetti, Nicholas Kirkwood and Arthur Arbesser to name only a few. Alumni such as this only further confirms its authority as a leading launch pad for innovative creativity.
The prizes for the winners are as made-to-measure as the couture being offered up, the focus for the winners is to maximise exposure, offering their labels to grow organically as opposed to solely investing capital (there are cash prizes on offer to winners and finalists). The winners can be offered exhibition spaces at the most esteemed fashion showrooms in the world, lines on global fashion retail websites and a spot as an official designer at the following edition of AltaRoma.
Nicola Brognano is a young Calabrian designer whom has previous work experience with none other than Italian royalty Dolce & Gabbana Haute Couture. Nicola started Brognano in the summer of 2015 and was one of Schön!'s favourite showcases, her collection is unmistakeably ultra-feminine despite the fact masculine shapes are often used as a base. Eclectic prints embellished with ruffles and flounces more than make up for the masculine tailoring. Definitely one to watch.
Daniele Giorgio, the founder and creative director of Parden's, has cultivated his passion for style since he was a child, upon finishing his studies he continues this cultivation of style and launched the Parden's brand. His vision was to allow women to express themselves and their personal tastes through clothing, perhaps this a little bit of a tired ethos, but there is nothing tired about his collection. His entire showcase had a strong visual impact, contemporary designs meet timeless elegance and the craftsmanship going into these designs is palpable.
Words / Jordan Gale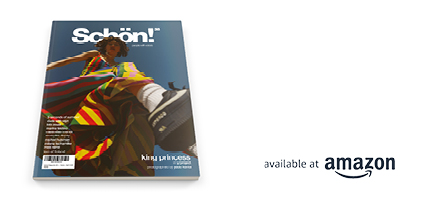 Discover the latest issue of Schön!. 
Now available in print, as an ebook, online and on any mobile device.