Nestled between Eastern Europe and Western Asia lies the fascinating country of Georgia. It's steeped in rich history and, as showcased at Mercedes-Benz Fashion Week Tbilisi, is also bursting with fresh sartorial talent. Organised by Sofia Tchkonia, held from May 5th – 9th, industry professionals and international journalists were welcomed to an impressive display of the capital's finest creators, including promising designers from Ukraine and Kazakhstan. Following in the footsteps of Central Saint Martin's alumnus David Koma, Tbilisi may have created its own niche. Collections featured a subtle play on femininity, unexpected contrasts of fabric and texture, and an ode to the female form in every cut and seam.
A highlight of the week was the diversity in knitwear. A relic passed on from Georgian ancestors, knitting is one of the country's oldest design techniques. One that received a refreshingly modern twist from designer Lalo, who used an earthy palette of shaggy moss greens and ice blues for a unique take on what you thought you knew about knitwear. Limits were pushed with flamboyant floor-length coats doused in colour and substantial knits contrasted with whimsical chiffon. Lalo took knitwear all the way down to the shoes with a variety of playful platforms and slides.
Ukrainian designer Bevza similarly gave wool a contemporary twist with jumpsuits and two-pieces in relaxed silhouettes that skimmed the female figure. A theme that Bevza also explored with bold and artistic coat prints. Fellow Ukranian Litkovskaya also broke aesthetic norms with her novel re-interpretation of outerwear. She neglected the structure of classic shapes such as the trench coat and leather jacket in favour of showcasing the natural fall of the fabric. Uninterrupted and elongated lines were present throughout the collection, highlighted by the most effortless approach to the leather jacket on the entire catwalk: finished with unhemmed edges, an over-sized fit and shaggy wool lining. Litkovskaya's alternative approach to iconic designs was perfectly showcased in a coat transformed into a red-carpet worthy dress.
Nino Babukhadia on the other hand, found a fine balance between the bold and subtle by layering minimalist shapes with flowing fabrics and unexpected chiffon details. Babukhadia's monochrome palette choice and eye for harmonious simplicity allowed shape and form to speak for itself. 
On the final day of the biannual fashion week, Kazakhstani designer Aika Alemi shined with her use of royal blues and scenic whites to create garments that were understatedly feminine and demure. Alemi's collection contrasted exquisite embellishment with crepe textures and dishevelled ripples, giving a multi-dimensional view of what it means to dress as a woman today. With a unique approach to fabric and an outstanding selection of outerwear and knit pieces, the week's incredible line-up revealed Tbilisi as a real contender on the world stage.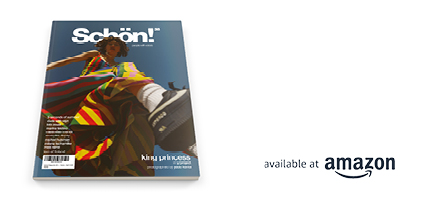 Discover the latest issue of Schön!. 
Now available in print, as an ebook, online and on any mobile device.