"One of these three is true," says Adrianna Gradziel, the Austrian born Franco-Polish model, actress and star of French rom-com Toute Première Fois/I Kissed A Girl, "my parent's names are Maria and Joseph, I have a penis tattooed on my leg or I was bald until the age of six. Which do you think it is?"
Beginning her career as a model, Gradziel moved from Vienna to Paris immediately after finishing her studies. "The first time I saw Paris was in 2005 – I was only fifteen," she says, "as soon as I got off the train at Gare de l'Est I started crying as I had not imagined Paris to be that beautiful!" She hasn't looked back since, but she does speak fondly about certain things from Vienna: "I do miss real Austrian sausages a lot, especially the ones with melted cheese inside," she says.
Swapping posing for acting, the young actress has her head screwed on when it comes to the career change so many models before her had attempted. "I think that you should work twice as hard [to become an actress] when you are a model," she says, "because you have to prove that there is more to you than just a photogenic face." However, her years of modelling were never in vein; she only considered her career change after her Parisian agent suggested she tried it and her agent and casting director believed in her acting talent, introducing her to producers and directors.
She then enrolled at the prestigious acting academy Cours Florent in Paris, which she fondly says was "exciting, interesting, laborious but never boring." Alongside developing her theatrical prowess, she also nurtured a relationship with Maxime Govare and Noémie Saglio, the directors of her first film, Toute Première Fois. "I knew both of them through mutual friends," she says, "I can be funny, that's why Noémie thought of me [for the role] in the first place."
Gradziel plays Adna in the motion picture, starring alongside Murphy's Law actor Pio Marmaï as an unlikely love interest for the homosexual, and soon to be married, protagonist. "The script was very funny and well written," she says of the film, "what I liked most about Adna was her spontaneity and generosity. She is quite tomboyish and not aware of her physical attributes."
The movie, which first premiered in January this year, won the Grand Prize at the International Festival of Comedy in Alpe d'Huez and enjoyed a great reception – a considerable feat considering it was a debut for both the directors and Gradziel. She speaks affectionately of her time on set, where her memorable moments include diving in Sweden's icy water, driving a car on the sideway and dancing to the music of French songstress Diane Tell, who also stars in the film.
Although she hasn't got any roles confirmed for the near future, there are a multitude of roles that the Polish star would have loved to have been cast as. "The dream would be to play both Kramer's in Kramer vs. Kramer, Maya in Zero Dark Thirty," she says, "Catwoman in Batman Returns, Elvira Hancock in Scarface and Yoda in Star Wars."
Besides her blossoming acting career and modelling jobs, Gradziel also finds time for her extensive list of hobbies, with one being photography, an art she studied between 2007-2010 before attending the Cours Florent. It's still something she continues, currently working on images for a friend's cookbook. "We hope to publish it next year," she says, "it's not your typical cookbook but it's top secret for now."
We'll have to wait to see more from the charming Gradziel, who is currently happy enjoying the "grumpy French waiters", chaos and wine that Paris has to offer. The young star is still growing into her career but judging from her playful debut in Toute Première Fois, she still has much more to offer. Finally, does she have a penis tattooed on her leg? You'll just have to guess.
Words / Molly Taylor
Follow her on Twitter.
This Schön! online editorial was produced by
Talent / Adrianna Gradziel @ Karin Paris
Photography & Make Up / Franck Glenisson
Styling / Laetitia Kandolo
Hair / Cyril Nanino for Sebastian Professional
Model / Axel Hermann @ Success Paris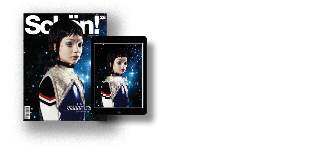 Discover the latest issue of Schön!. 
Now available in print, as an ebook, online and on any mobile device.