In this 3rd instalment of Schön! exclusive beauty story by Brian Ziff, our pallid host begins to melt away, metamorphosing into the fertile grounds for a vibrant spring garden. All around her icy visage, with Tom Ford highlights by Mynxii White, new life bursts forth with sweet eruptions of magenta and daisies, piquing the curiosity of birds, encouraged ever closer to their lush new home.
This Schön! exclusive series was produced by
Photography, Music & Words / Brian Ziff
Animation / Ethan Chancer
Creative Director & Beauty / Mynxii White
Model / Erika Labanauskaite @ NEXT
Hair / Anna Estella Patterson
Styling / Sarah Toshiko West
Makeup Assistant / Elsie Simone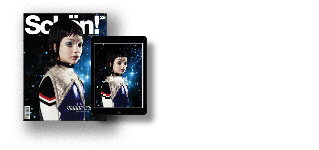 Discover the latest issue of Schön!. 
Now available in print, as an ebook, online and on any mobile device.