It almost seems like fashion never stops in Paris, and we're thrilled that it doesn't. The fully packed first day of Paris Women's Ready-To-Wear Autumn/Winter 2015-2016 Collections took inspiration from the versatilitity of nature. From Anrealage's outstanding portrayal of the beauty we find in darkness to Jacquemus' organically artistic performance, this day was ripe with inventiveness. We also visited the worlds of Irakli, Each x Other, Christine Phung, Lea Peckre, Ground Zero, Anthony Vaccarello, and Anne Sofie Madsen.
The Autumn/Winter 2015 Ready-To-Wear Fashion Shows kicked off with the presentation of Irakli's new collection D'un Rêve à L'autre, or From One Dream to Another, at the luxurious Lapérouse restaurant facing the iconic Seine River. Invitees opened doors to intimate rooms showcasing one piece to the fashion puzzle: a shirt with painterly strokes or a pair of elegant black trousers. Decorated with paper sculptures, each room was its own world of artistic proportions. "For this collection I designed my own spiritual journey with materials that are sometimes soft, sometimes structural," Irakli explained. "Everything is in the nuances. The drawings on some pieces are characters that I have 'dreamed.'" A gourmet dinner with Catherine Baba, Anna Cleveland, and prestigious members of the fashion industry followed suit.
Each x Other's new collection featured streamlined silhouettes for an overall casual chic sensation. Plunging Vs were designed in silk overall straps and low necklines, while luscious coats embraced bodies. A colour palette of navy, cream, and grey made for a natural and effortless ease. Standout pieces included breezy jumpsuits and ever-so-comfortable wool sweaters.
Christine Phung displayed violet and teal static prints on pleated dresses and ribbed coats. The Cambodian-French designer recounted a space age tale drawing inspiration from organic silhouettes, long yet sometimes blooming at the hips. Flowing jersey skirts juxtaposed chic sweatpants, a cross between pretty and cosy. Phung succeeded in fashioning a futurist warrior, in touch with Mother Earth.
The modern woman was recreated in Lea Peckre's runway show filled with geometrically cut textiles and wide legged trousers. Peckre demonstrated her high attention to detail in formatting fragments of cloth on top of each other. Peek-a-boo midriffs were revealed in a range of box silhouettes. Other looks sported encircling fringe around waists.
Graphic prints and irregular cuts alluded to a rebel youth in Ground Zero's luxury sportswear. Brothers Philip and Eri Chu headed to the motorcycle tracks in a collection rife with adventure. Baggy pants cinched with plastic tubes made for daring street wear. Multi-coloured jacquard sweaters were juxtaposed with pencil skirts, while furry textures contrasted iridescent fabrics. Girl power was heightened with a twist of sporty in prints reminiscent of the Marlboro cigarette pack or motor cross bikes. Buckle up, because you're in for one wild ride.
With slight nuances in material and cut, doll-like winter coats and skirts of Anrealage's collection wowed with powder white circles and impeccable tailoring. Japanese designer Kunihiko Morinaga played on the idea that there's more to what meets the eye as colourful patterns were revealed when garments were placed under spotlights. More than just dual outfits, these looks were artworks of flowers, plaid landscapes, and polka dot imaginations.
Anthony Vaccarello gave a star-studded performance in a collection of twilight embellishments. One reason for this is the fact that Donatella Versace has named Vaccarello as the new creative director of Versace. Harnessing the powerful and sexy woman as inspiration, Vaccarello created a series of asymmetrical short dresses with a pinch of fringe to highlight legs. Black, deep red, navy, and chocolate composed this collection. Coat and skirt panels floated as models walked down, while waists were discretely revealed through cut outs. We don't know about you, but we clearly had stars in our eyes.
Simon Porte Jacquemus started his show with wide hip trousers, a circular beige mask, and a bare female torso. Garments were pieced together with cut outs, as if these creations were derived from paintings of wildlife. We loved the long, felt skirt that curved in an organic manner. Jacquemus' collection was abstract, with some pieces of fabric trailing or longer than the rest of the core, as if attached to the roots of plants.
Anne Sofie Madsen warped us through time in her inventive collection of hand weaving and patchwork. Titled Days of Future Passed, the collection concentrated on the construction of deconstruction as something otherworldly and misplaced. There was a rebel cool vibe; a mélange of masculine and feminine silhouettes. Standout pieces included blurred hand painted illustrations on elegant silk dresses, and fluid armour chest plates. Madsen collaborated with Farewell to create a special footwear collection consisting of chunky heel platforms with sleek, black leather.
Words / Sheri Chiu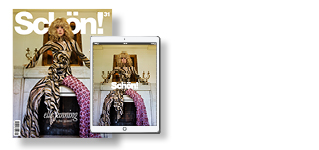 Discover the latest issue of Schön!. 
Now available in print, as an ebook, online and on any mobile device.