Lisbon is not just the city of the moment, but also home to ModaLisboa, credited as the world's first independent fashion week. Schön! reports on the autumn/winter edition, which took place from 13th to 15th March, showcasing Portugal's thriving fashion scene, as well as international designers from as far and wide as Poland and Angola.
Each season, ModaLisboa's organisers give the event a theme, and this time round it was 'Curiouser'. "Curiosity is at the heart of fashion," they explained, while throwing out the gauntlet to a new generation of designers to reinvent and challenge existing conventions. With this in mind, the catwalk opened with Sangue Novo, the runway for emerging talent. Ten designers and brands were selected by a panel of judges to present their wares to the industry, and all were hoping to win the chance to represent Portugal at FashionClash (the Maastricht fashion festival) in Holland this June.
There was a wide range of styles at Sangue Novo, from elegant tailoring and eveningwear to more conceptual collections. For example, M HKA, designed by Alexandre Pereira and Felícia Macedo, seemed to take its cue from children's clothing with onesies and pinafores in bright ginghams or egg yolk yellow, worn by models sucking on dummies and carrying stuffed toys. In the end, the prize was taken by Patrick de Pádua, with his street inspired menswear collection, featuring leather, mesh and balaclavas in black, khaki and orange, and a rather intimidating looking Rottweiler (who nonetheless seemed content to join the audience sedately for the remaining shows).
Other up-and-coming brands were showcased under the LAB initiative. These included Awaytomars, whose crisp lines were rendered in simple black, white and grey or in colourful pop art prints and shiny space-age silver, and Nair Xavier, whose tailored menswear in relaxed shapes was strong on colour, including mustard, blood orange, forest green and aubergine.
Of the more established designers, Lisbon-born Alexandra Moura, who has been presenting her collections in the capital since 2002, stood out. For AW15, she was inspired by ancient cultures, ethnic identities and pristine environments, from Siberia to the Gobi desert. These were interpreted in overlapping and voluminous layers in warm and heavy fabrics with a view to offering comfort and protection.
Ricardo Preto also impressed with a grown-up and wearable collection for the modern woman, continuing the current trend for 70s inspired sophistication. Muted tones of taupe, nude and rose were combined with the richer hues of cobalt, rust and claret, with a shot of sunshine yellow. Heavier materials such as fur, textured knits and stiff satin were contrasted with featherweight dresses and skirts made up of sheer panels.
This season, ModaLisboa was not short on drama or theatricality, and the aforementioned pooch was not the only animal on the runway. Nuno Gama, who is known for putting on a spectacle, presented 74 male models, carrying flags, oars, and even birds of prey. "I tried to be a bit simpler this time," Gama assures us, "but everybody wants to be part of it. They're all jumping on the bus!" Meanwhile, guests invited to Dino Alves' show were asked to dress in top-to-toe black, creating the perfect backdrop to models sashaying down the black-carpeted runway.
Whether high drama or high fashion are top of your agenda, or whether you are fascinated by womenswear, menswear or accessories, experienced designers or catwalk newbies, ModaLisboa has something for you. The three-day event continues to go from strength to strength and we can't wait to see what next season brings.
For more information, visit modalisboa.pt
Words / Huma Humayun
Follow her on Twitter.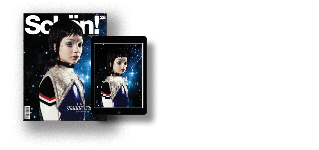 Discover the latest issue of Schön!. 
Now available in print, as an ebook, online and on any mobile device.