A destination for magpies, today's Valentine will transport you back in time to a 16th century silver mine. Located in the Sala Mines of Sweden, the underground suite is built at minus 155 meters, surrounded by the rock that was once used to source the metal.
Using a fire-setting method of placing wood against the bedrock and setting it on fire, the suite was born from a process of digging that took approximately ten years. The suite's heritage is still evident, with silver candlesticks, candelabras and typical French Baroque furnishings of the mine's time. Prepare to wrap up warm, though, with temperatures reaching a chilly -2° C during the complimentary tour and 15 °C in the suite.
Planning on celebrating more than usual this year? The mines are also host to drop-in wedding ceremonies in one of the grand halls on Valentine's Day.
Discover the Mine Suite here.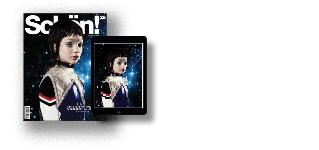 Discover the latest issue of Schön!. 
Now available in print, as an ebook, online and on any mobile device.